Police and crime commissioner elections - why bother?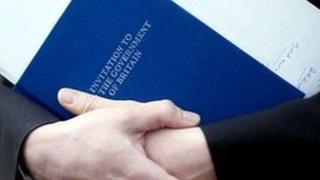 The idea of elected police and crime commissioners was a vital part of the Conservatives' 2010 manifesto.
If you remember, that document invited the public to join the government.
But with the elections a month away, the public are not showing much signs of being that interested.
Polling suggests low awareness of the 15 November polls, and little understanding of the role of police commissioners.
Usual suspects
And some of those problems look self-inflicted.
The Tories had talked about attracting a whole host of independent candidates rather than the usual suspects.
But then they decided each candidate would have to come up with a £5,000 deposit.
The result - a much smaller field of independents with the elections dominated by the traditional political parties.
The government also decided against offering a free mailshot to each candidate.
That perhaps was understandable given the estimated cost of £30 million to the public purse.
But it does mean that the public won't get information from candidates automatically through their letter boxes.
Instead they are being asked to seek it out online - or request it to be posted if they don't have access to the internet.
But with even the main political parties short of money, don't expect to see many candidates buying billboard poster slots or full-page newspaper adverts.
Lower turnouts
Then there was the decision to hold them in November.
Political wisdom suggests November elections are best avoided. Short days and poor weather lead to lower turnouts.
There isn't also the draw of local council elections to push people to the ballot box.
So in short there's a fear these will be almost invisible elections.
Those factors have led the Electoral Reform Society to forecast a terrible turnout. They fear it could even be lower than 20%.
The government has begun an advertising campaign including a slot during Saturday's X Factor.
The Electoral Commission will also be leafleting people's homes.
We at the BBC have also begun gearing up our coverage.
But there is genuine concern that a low turnout could damage the credibility of the idea and the individuals elected.
Professor Mike Tonge is a lecturer in policing at the University of Cumbria, and a former Chief Constable.
He said: "This is a huge change in the dynamic of policing and the public really having a stake in holding to account the Chief Constable.
"If there is only a turnout of 20%, there would have to be real concern about whether these people could be expected to represent the public."
Limited influence?
But why should the public care?
On the face of it, the new commissioners may have limited influence.
They get to set police budgets - but of course they will only be able to play with the money handed to them by the government.
Few are going to want to risk their electoral future by hiking up council tax to raise more funds.
They will set policing priorities, drawing up a five year plan alongside the chief constable.
They may prove to be riveting documents but you suspect they could end up being full of bland motherhood and 'apple pie' statements.
In addition, commissioners are not supposed to influence operational matters.
Day-to-day investigations remain the responsibility of the chief constable.
Significant change
Yet, I think there are reasons to take notice of these elections.
The introduction of the commissioners is probably the most significant change in policing we'll see in our lifetimes.
For the first time there will be a directly-elected politician at the top of our forces, replacing the appointed police authorities.
And crucially their power to hire and fire the chief constable and their democratic mandate will make them hard to ignore.
I don't know about you, but I'd tend to take notice of someone who could sack me.
I suspect commissioners will have more influence than their official brief suggests.
And it will be over a sphere of life that does matter to people - crime and the safety of our communities.
If there are cuts in crime, expect them to be keen to take credit. If there are rises, expect them to ask tough questions of officers.
More political
Many fear the advent of commissioners will politicise the police. The government insists it won't.
But I think it's fair to say the governance of our forces will become more political than they have before.
Anyone elected on 15 November this year will be conscious that they will need a record to campaign on come the next set of elections in 2016.
They are unlikely to want to be sidelined on the most important law and order issues in their communities.
Ultimately, I feel it's up to individuals to decide whether they want to vote.
But make no mistake, these elections are significant, and the individuals elected could make a difference to our lives.
So if you choose not to turn out on 15 November, and it's likely you'll be in the majority, you will have to live with the decision of those who did.
You can get more information on a special section of the BBC website.