Police and crime commissioner elections: Rural crime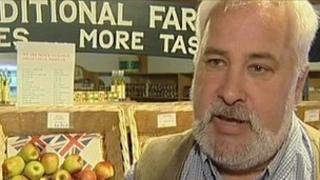 After agricultural crime cost the south-west of England £7.6m in 2011, BBC News has asked Devon and Cornwall's police and crime commissioner (PCC) candidates how they would tackle it.
The figures, from the National Farmers' Union (NFU) Mutual, also showed farming tools, quad bikes and metal had been stolen the most in Devon and Cornwall in 2011.
The amount, which covers Cornwall, Devon, Somerset, Dorset, Wiltshire and Gloucestershire was based on claims data.
To deter criminals, livestock farmer Richard Haddock from Churston, near Brixham, said he had spent about £50,000 on CCTV cameras, alarms and security to protect his properties and animals.
He said: "The insurance is going up and so are the losses.
"The police are concentrating their efforts on where more people live."
Devon and Cornwall Police said it was currently working on a new strategy to tackle rural crime.
Preventative measures
Official statistics from the force show there were 547 recorded thefts from farms in Devon and Cornwall between October 2009 and September 2010, compared to 539 between October 2010 and September 2011.
The figures showed that between October 2011 and September 2012 there were 504 thefts.
Despite a drop force-wide and in Devon, the statistics show there was a slight rise in Cornwall and the Isles of Scilly.
There were 211 recorded thefts between October 2010 and September 2011 compared to 224 in October 2011 and September 2012.
Devon and Cornwall Police said that prevention was the most cost-effective policing option and could "reduce the devastating effect on victims".
The force said various 'watch' schemes were in place to help reduce crime, including Countryside Watch and Farm Watch.
The schemes encourage people to use preventative measures and work as a community to report crime.
In Devon and Cornwall more than 3,000 people are part of a Farm Watch scheme, the force said.
The BBC has been speaking to the police and crime commissioner candidates to see how rural crime can be tackled.
BRIAN BLAKE - Liberal Democrats
Brian Blake said: "Devon and Cornwall as we all know is a very large rural force and patrolling is not the only answer to bring down crime.
"As with urban areas people should take responsibility for their possessions and secure them as best they can."
He added that crime prevention such as Neighbourhood Watch and Farm Watch had important roles to play in assisting the police.
GRAHAM CALDERWOOD - Independent
Graham Calderwood said he would increase the number of special constables and expand and encourage Neighbourhood Watch and similar schemes.
He said "Police can't be everywhere and concentrate on busier areas."
He added that he would encourage the marking of machinery, introduction of cameras and surveillance and provide more advice to help keep items secure.
BRIAN GREENSLADE - Independent
Brian Greenslade said he was brought up in a rural farming community so understands the concerns.
"In particular metal theft is a real issue," Mr Greenslade said.
He added: "As with so many crimes visible policing and communications in these communities must be supported and schemes like Farm Watch encouraged."
TONY HOGG - Conservative
Tony Hogg said he would take the concerns of farmers and rural communities seriously.
He said he hopes to make the service more efficient and would increase the visibility of the police and recruit more special constables and police volunteers.
He added the special constables could work in the rural communities to increase police presence.
IVAN JORDAN - Independent
Ivan Jordan said: "We must work for the return of the local country constable who knows a rural community."
He said he was focused on crime prevention and a business oriented approach to police budgeting.
He added he would use his approach to reduce police spending, fight redundancy and wherever possible increase police numbers in urban and rural areas.
TAM MACPHERSON - Independent
Tam Macpherson said: "Rural matters in the West Country are, due to the geographical scale of the two counties and isles, of great importance.
"Recent increases and [the] value of such crimes determines that they have to be taken seriously."
He added gathering intelligence and using technology, such as gate sensors, could greatly assist in reducing such crimes.
WILLIAM MORRIS - Independent
William Morris said: "Here in Devon and Cornwall a disproportionate level of rural crime is not pursued.
"I will crack down severely on rural crime including metal theft, rustling and wildlife crime."
He said he would achieve this by using more local policing and, as and when necessary, random spot checks on lorries and vans in rural areas.
BOB SMITH - UK Independence Party
Bob Smith said: "Rural crime is a serious problem in the South West.
"The UKIP will always take a strong stance on crime. Our approach will be to reassure those in the country that all crimes will be dealt with seriously.
"Rural crime is no less of a crime because it takes place in the country and as such we will treat all perpetrators of crime with the same degree of seriousness."
JOHN SMITH - Independent
John Smith said: "In the police area there has been an increase in rural crime.
"We must set up schemes like Farm Watch to help rural communities to stand together and cooperate to tackle rural crime."
He added there might be a need for parish constables, who would be similar to special constables and have a particular interest in protecting rural areas.
NICKY WILLIAMS - Labour
Nicky Williams said reducing rural and farm crime relied on community involvement.
"I will re-invigorate the Countryside Watch campaign, learning lessons from Farm Watch schemes in other counties," she said.
She added: "Property marking and registration, rapid communication via text and email and a dedicated website are ways that we can all work together to cut theft of equipment and livestock."