Devon and Cornwall PCC elections: Police funding cuts debated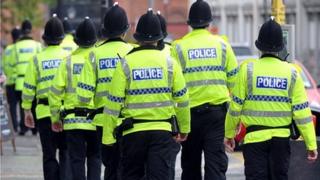 Candidates for the post of police and crime commissioner (PCC) for Devon and Cornwall have clashed over cuts to the force.
Devon and Cornwall Police plans to cut 700 officers by 2015 as part of plans to save £51m.
Officer numbers are expected to drop from 3,500 in March 2010 to about 2,800 by March 2015.
Brian Greenslade, an independent candidate, said he wanted to rebuild officer numbers as quickly as possible.
He said: "It is obscene for the government to spend £80m on these elections while cutting the police grant so we lose 700 officers."
Liberal Democrat candidate Brian Blake said he proposed to double the number of special constables to 1,000 and would implement a police volunteer scheme to assist back office functions.
The counties' population is about 1.5 million. However, this rises to about eight million during the summer months because of tourism.
Mr Blake added that with the influx of summer visitors, budget bids to the Home Office would have to emphasise it was the equivalent of the population of London visiting the region on holiday.
In August, Acting Chief Constable Shaun Sawyer said the loss of 700 officers may need to be reconsidered and reversed, and admitted the force may have "cut too hard and too fast".
Graham Calderwood, an independent candidate, said paperwork, bureaucracy and senior officers should be cut, not those on the front line.
He said a police presence mattered and he wanted to increase the number of specials and police community support officers (PCSOs) and reintroduce specialist interview teams, including part-time retired officers.
'Fairer budget'
Devon and Cornwall Police has an annual budget of about £255m compared to neighbouring Avon and Somerset Police which has an annual budget of about £280m.
Labour candidate Nicky Williams said she would lobby for a fairer budget and would work in partnership with councils, community groups and voluntary organisations.
She said: "We can only reduce crime and the fear of crime through the police supporting people in their own communities."
Conservative candidate Tony Hogg said he would prioritise working with the chief constable to increase efficiency and gain a "fairer slice of government funding to offset the savings".
He said he planned to work on tackling alcohol and drug abuse, as well as anti-social behaviour.
Independent candidate Ivan Jordan said: "I am in dialogue with leading South West business people and am using their expertise to assist in adopting business practice in police financial management.
"This is one way we can create efficiency, say no to privatisation, stop redundancy and handle the cuts, he added.
Tam Macpherson, an independent candidate, said that budget cuts in the current climate were inevitable.
However, he said: "Better synchronisation of shifts and working hours to actual resident and business needs will be essential in formulating a well resourced realistic strategy for the future in visual policing."
'Crime rates climbing'
In October, the Office for National Statistics said the number of recorded criminal offences in Devon and Cornwall had risen by over 7% in a year.
William Morris, an independent candidate, said crime rates were still "climbing" in the region.
Mr Morris said: "I will introduce targeted zero-tolerance policies and end cuts in local policing."
John Smith, an independent candidate, said: "We saw offences decrease with the appointment of more officers and it seems logical that offences will increase as the cuts bite."
He said the force would need to prioritise and use more volunteers where appropriate.
In response to crime statistics published in October, Devon and Cornwall Police said its more recent figures showed crime had fallen.
UK Independence Party candidate Bob Smith said he would give the police the right pay, conditions and tools so they can do their job.
He said: "We would suspend the implementation of the Winsor proposals and leave the police to implement the law and we will not use private security companies."