Elderly care: Norman Lamb urges greater family role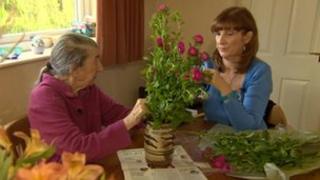 People will need to take greater responsibility for the care of elderly relatives in the future, health minister Norman Lamb said.
Mr Lamb said pressure on government budgets meant families would have to play an increased role in care.
He said the government had also taken £7.2bn from health to help local councils provide social care.
Mr Lamb, MP for North Norfolk, where a third of constituents are over 65, was speaking to the BBC's Inside Out.
"What's happening in my own constituency makes me acutely aware of the changes we face," said Mr Lamb.
'Crazy situation'
"The truth is that the government has an absolute responsibility to ensure that older people get the care that they need so that they can grow old in dignity and respect, and it means that we have to fund the carers that are available to look after those people," he said.
"Part of it will be families' responsibility. We all, of course, take responsibility for our loved ones but the state is there to ensure that the state works effectively and people get the support they need, but also to provide support where family isn't available and where people wouldn't otherwise get the care they need."
He said the government had "shuffled resources", moving £7.2bn into social care.
He added: "We have this crazy situation of a silo with social care and a separate silo with health care. From the individual older person's point of view they don't see two different systems, they just want to be cared for.
"No political party of any persuasion in government is in a position to just throw more money at this problem. It's about making sure the money we have is spent to best effect so that older people get the care they need."
Peter Earwaker, of Wicklewood, Norfolk, is a carer for his wife Julia, 82, who has dementia.
"She can't remember things, obviously, which has got a lot worse. She doesn't always know who I am," said Mr Earwaker.
"She actually does use terms of endearment towards me so there's a little something all the time."
But he added: "She's very confused. She can't use the telephone. I have to take her to the toilet, lots of things like that."
Mrs Earwaker also receives four hours of professional care a week, costing £17 an hour.
'Face reality'
The fees are paid for through an insurance policy. Mr Earwaker said he "wouldn't like to even contemplate" not having taken it out.
He said people needed to consider how they and their relatives would be cared for in their old age.
"Take your head out of the sand and face up to reality because it will hit you between the eyes like a steam train if you don't wake up to it," he said.
"It's hard, very hard, and you need all the help you can get."
But one Norfolk carer said when she worked for a previous employer, she would sometimes have to spend less than 15 minutes with clients.
Julie Heywood said: "I just felt sick. Some mornings I would look at my rota and there would maybe be 15 calls on there.
'We cut corners'
"I would know that I couldn't do my job properly because of the time restrictions.
"I could only do the best I could. We had no choice but to cut corners."
Like other local authorities, Norfolk County Council is having to make cuts and is slashing its adult social care budget of £213m by 9%.
Harold Bodmer, the council's director of community services, said: "Fifteen minutes is not enough time to spend with an elderly person and we don't commission 15 minute calls in Norfolk, except for check calls, so we try not to programme work in that way."
But he added: "We can't just carry on increasing delivering services the way we always have done."
He said volunteer careers would have a part to play.
"This is about communities and communities are made up of people living, supporting each other, living together," he said.
"I'm not suggesting we hand over formal care. We're not changing our eligibility criteria for that but what we do want to make sure is that people are provided with as much support earlier on so that it delays the time when they need formal care."
Inside Out looks at the issue of care for the elderly on BBC One at 19:30 BST on Monday.