Stephen Farrow 'buzzing' over murder investigation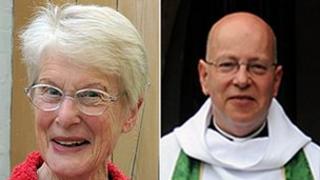 A man accused of the murder of a vicar and a retired teacher told police he was "buzzing" as a result of being investigated, a court has heard.
Stephen Farrow denies murdering Betty Yates, 77, and Rev John Suddards, 59, but admits the latter's manslaughter.
He was found dead at his vicarage in Thornbury, near Bristol, in February. Mrs Yates was found dead at her home in Worcestershire in January.
The court heard Farrow told detectives they were "on the wrong track".
Det Con Michael Stone and Det Con John Shanahan, supervised the removal of Farrow's clothing for forensic examination following his arrest in Kent, Bristol Crown Court was told.
Two knives
The court was told Farrow had said to the officers: "There is no way you will find anything on me.
"I just want to find out what you think I have done. I am buzzing off this."
The court also heard from Dr Amanda Jeffery, a Home Office registered forensic pathologist, who said that Mr Suddards had been stabbed seven times.
He had suffered wounds to his shoulder, chest, abdomen and neck.
Dr Jeffery said one of the stab wounds to Mr Suddards neck had penetrated the spinal cord and would have been fatal without immediate medical attention.
The court was told two bloodstained kitchen knives were recovered; one from the scene and the other when Mr Farrow was arrested in Kent five days later.
Dr Jeffery said she was unable to say which of the knives had been used in the attack.
"The knives are very similar dimensions so it could be either or both," she told the court.
Farrow was not present in court having refused to leave Long Lartin prison in Worcestershire where he is being held.