Environment Agency sets up flood defences in South East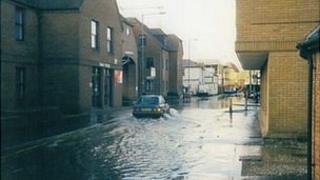 Flood defence schemes will be set up across the south east as part of an Environment Agency (EA) campaign to prepare the region for flooding.
After the River Cherwell flooded in 2007 a flood alleviation scheme was built in Banbury, in Oxfordshire.
It will be officially opened later this month, and flood defence schemes will be set up in Newbury in Berkshire and at Seaford Beach in East Sussex.
In the next month the EA also hopes to raise public awareness of flood risks.
Peter Quarmby, EA flood and coastal manager, said the internet and social networks will be used to teach people how to find out if their homes or businesses are in a flood risk area and how they can minimise potential damage to their properties.
He said: "Raising awareness is just one of the ways of trying to bring home to people why they need to accept that flooding can happen and how they can prepare for when the worst does happen."
Embankments were built around Banbury to disperse water into a floodplain after flooding in 2007.
In Newbury, £1.6m will be spent on a similar project. The Berkshire town is at risk of flooding due to the raised position of the Kennet and Avon Canal and experienced major floods in 1947 and 1960, with smaller scale floods affecting the town more recently in 2000, 2003 and 2007.
In East Sussex, the EA wants to maintain defences along the River Ouse and coastline between Newhaven and Seaford as sea levels rise.