Hockney and Emin work in secret auction at Towner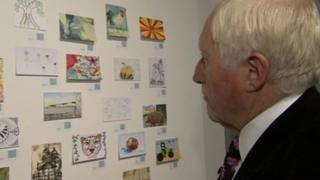 Visitors to an East Sussex gallery can bid for an original David Hockney or Tracey Emin artwork - if they can spot them among 600 anonymous works.
The artists, along with hundreds of unknowns, have contributed postcard-sized artworks to a secret auction being held at the Towner in Eastbourne.
Other contributors include Prime Minister David Cameron, comedian Ronnie Corbett and novelist Jilly Cooper.
Buyers bid for the works on eBay without knowing who has donated them.
The exhibition, which runs until 20 October, is in aid of St Wilfrid's Hospice in Eastbourne.
St Wilfrid's ambassador Charles Grimaldi said: "I first read a newspaper article about a secret auction where someone bought an Emin for less than £100 and sold it subsequently for £16,000.
"I thought, that's interesting, and decided to try to do something for St Wilfrid's."
The hospice has been collecting the artworks for months, helped by broadcaster David Dimbleby, who lives in Sussex and is a supporter of the charity.
"When the idea came along I wrote to Tracey Emin and David Hockney and to my astonishment - because they get put upon all the time - they both gave things," said Mr Dimbleby.
"You can bid for a Hockney or an Emin and get it for a knock-down price. The names are all on the back but you are not allowed to look.
"I like the ones that use space in a bold way. I have two in here that are dreadful."
The youngest contributor is aged four and the oldest 100. Tracey Emin has four works in the show, and there are two each by Jilly Cooper and Ronnie Corbett.
Curator Sanna Moore said there had been a "tremendous" response to the exhibition.
"There has been a constant stream of people through the gallery and they all seem very excited about the auction," she said.
"It's a completely new concept for us."