'Fantastic response' to Severn Valley Railway share sale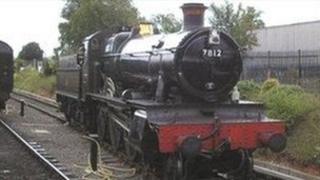 The sale of shares in Severn Valley Railway has seen a "fantastic response", according to the heritage line's general manager.
Nick Ralls said £364,000 of the £3m available shares had already been sold.
Shares went on sale on 1 October in a move to bring "vital investment" to the 150-year-old attraction.
The 16-mile heritage line follows the River Severn from Kidderminster to Bridgnorth, attracting about 200,000 visitors a year.
Mr Ralls said shareholders would get discounts and a say in the running of the attraction.
'Traditional skills'
He said the number of £1 shares purchased ranged from the minimum investment of £100 to about £13,000, with a couple of purchases of shares of £30,000.
"It's mainly individuals [and] not just railway enthusiasts. I think it's anybody whose got a interest or a passion for the heritage of this country," he said.
He said an enterprise investment scheme meant taxpayers who bought shares would get 30% of their investment back.
Mr Ralls said the money raised would be used to improve visitor amenities, refurbish the railway infrastructure and restore Bridgnorth station "to its Victorian glory".
SVR also aims to open a heritage and engineering training academy.
Mr Ralls said the aim was to "bring through lots of young people and train them in those traditional skills that we have now, that we want to keep going for the next 50 years".
Railway representatives are holding presentations and talks over the weekend about the plans at the site.