Crete death mother prepares for murder trial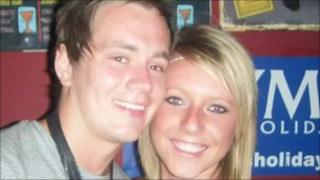 The mother of a woman from West Yorkshire who died on a Greek island has flown out for the murder trial of her daughter's boyfriend.
Chelsea Hyndman, 20, died of internal injuries on Crete in May 2010.
Her boyfriend, Luke Walker, from Brierley Hill in the West Midlands, is accused of beating her to death.
Friends of Miss Hyndman's mother, Heather, have fundraised to help pay for the family to stay on the island for the trial, which starts on Tuesday.
Miss Hyndman had been working at the party resort of Malia when she died after suffering severe injuries to her abdomen.
Her mother, from Castleford, told BBC Look North: "I keep saying to myself I got through the worst day of my life so I can get through this. I can't fall apart because this is the last thing I can probably do for Chelsea."
She added: "Every morning I wake up and I know that I am not going to be able to see her and touch her and then I just tell myself you can get through this day.
"And then if you do manage to laugh then you feel guilty because how can you be feeling happy when your daughter is not with you."