March over RAF Reaper drones at Waddington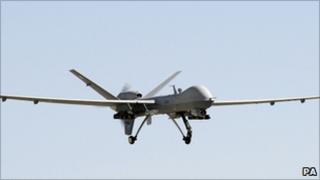 A march has taken place against plans to control unmanned aircraft operating in Afghanistan from a base in the UK.
A new squadron of drones, known as Reapers, are due to be controlled from RAF Waddington in Lincolnshire.
Campaigners said the march was about highlighting the dangers of drone strikes on civilians.
The MoD said the Reaper's primary purpose was to provide combat and surveillance intelligence.
Campaigner Mia Evans said: "There is a big difference between using drones for surveillance and using ones armed with missiles.
"What the pilots see on their screen is like a heat sensor - they don't know if they are seeing a militant or a child with a stick."
Reaper drones are armed with laser guided bombs and Hellfire missiles.
The MoD said the Reaper was not an autonomous system and did not have the capability to employ weapons unless it was commanded to do so by the flight crew.
It said the drone was bound by the same rules of engagement as a manned aircraft.