Giant vegetables fail to break records at Peterborough show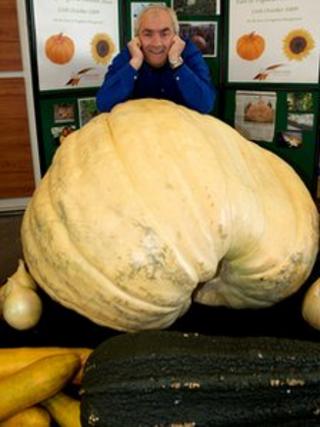 Growers of massive marrows and other outsize vegetables have failed in their attempts to break some world records at a horticultural show near Peterborough.
The giant vegetable competition was held as part of the Autumn Show at the East of England Showground on Sunday.
Judge Clive Bevan said "mammoth" onions, cabbages and pumpkins had been displayed at the event, but sadly none had broken any records this season.
However, he said the attendance of up to 12,000 people was "very pleasing".
"There were no overall winners this time, but everybody's been pleased with what we've been doing," said Mr Bevan.
"There's been some really nice stuff here and people have left very happy. There's been plenty to see".
Mr Bevan said despite not entering the record books, the show had clocked a cabbage weighing 37kg (5 stone 12lb), a marrow at 50kg (7 stone 12lb) and a pumpkin at 133kg (20 stone 13lb).
"If the public is paying to see giant vegetables, then they have to be something worth seeing," Mr Bevan said.
"A few years ago it did get a bit out of hand with people bringing stuff that was almost rotten.
"We won't put up with that sort of thing."