Costs of elderly care in the south 'terrible'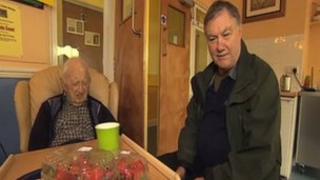 "He fought for his country abroad and at home, he was hospitalised during the war and then they take his money. I get so annoyed when I think about it because I think it's so unfair."
Roger Paling has to pay about £1,000 a week for his dad Howard's residential care in the New Forest.
With his pension he manages to stay out of debt but he says it is not easy.
"He worked from 16 to 75 and then they tried to take his money. But fortunately by that time he didn't have any so we use his pension and that's how close to the line it is," he said.
"I think it's terrible after he paid in all this time."
Budget pressures
It is a situation that is being faced by people across the south as the number of elderly needing care increases and the resources available to look after them is cut.
Local authorities in England are responsible for paying the care costs for people whose assets are less than £14,000 but funding cuts imposed by Westminster of 28% over four years are putting pressure of their budgets.
In Oxfordshire the chairman of the Board of Green Pastures Christian Nursing Home near Banbury says the difference between their break even fee and the fee paid by Oxfordshire County Council has risen every year since 2004.
Margaret Clark said the home is now losing £260 a week for every council funded patient and has to rely on charity funding to make up the difference.
She said: "Some of the families of our state funded residents top-up the fee paid by Oxfordshire County Council but some families cannot afford to do this.
"We have a bursary fund, the Shepherd's Purse, to help residents who cannot pay this top up. All monies for the Shepherd's Purse come from fundraising.
"Last year we needed to raise £30,000 for Shepherd's Purse to support residents who could not top up their fees."
She said the home's staff had even got involved in the fundraising for Shepherd's Purse by doing a 20 mile sponsored walk which raised over £1,000.
Local authorities cannot make families pay a top-up fee if they accept a place from a council list but they are increasingly asking them to do so.
David Rogers, from the Local Government Association, said: "These pressures will grow year-on-year. We have an aging population and therefore the demand for care services, whether that's residential care or care in people's homes, is going up year-on-year and the resources to meet that are in fact declining."
The Care Minister, Norman Lamb, acknowledged that there needed to be reform of the care system but said that councils had to think harder about how they are spending their money.
He added: "For example in Dorset they're investing £1.6m in 'reablement', getting people fitter after a crisis, increasing their independence. They're estimating by the third year they'll be saving £3m a year."
Loss of income
Elsewhere the Isle of Wight has an innovation called Care4Care where people can bank care credits for the time they spend helping elderly neighbours to spend on their own care in the future.
But back at the Birchy Hill care home in the New Forest, Julia Obee is still having to cope with the realities of losing a husband to dementia and with the sudden loss of income as a result of him being in a care home.
She said: "It's very distressing when you think that this time last year he was completely independent, looking after his own drugs, [we were] going shopping together, doing everything together.
"My income now does not cover my expenditure. If you're under the Hampshire rate you have to contribute the state pension and half the occupational pension so I now only get half his occupational pension plus a minimal state pension because I didn't work when the children were small.
"I now have to pay for everything in the house, the running of the house, the running of the car. If you sell the property, if you make a profit on it, the state will take that profit towards his upkeep. Although at the moment I can't contemplate moving into somewhere that would be more economical to run."
You can find out more about the cost of caring for the elderly on Inside Out: Elderly care special on BBC One South on Monday at 19:30 GMT.