Wiltshire teacher postpones charity dance after crash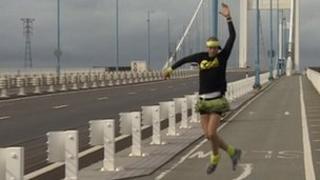 A teacher who was dancing from John O'Groats to Land's End has postponed his challenge after being hit by a car.
Ben Hammond, 34, from Wiltshire, was struck last week while dancing through Polsham, near Wells in Somerset.
He attempted to resume his challenge on Thursday but found he was in too much pain to continue.
Alanna Rugg, 25, from Somerset, has been charged with driving offences and will appear at South Somerset Magistrates' Court on 19 October.
'Had enough'
Mr Hammond, from Bradford-on-Avon, had danced for some 1,000 miles (1,600km) before the incident which left him with cuts and bruises.
On Thursday he tweeted: "Just back at the crash site from a week ago. Tried to dance on but after a mile the body had had enough - pain all over."
He now plans to pick up where he left off but only when fit, which he hopes will be "in a few weeks".
The fundraising challenge began on 13 August and was scheduled to end on Saturday.
It had been inspired by time Mr Hammond spent as a teacher in a refugee camp on the Thai/Burma border.
He said he was shocked by the lack of freedom the people had and so he decided to set up LearnBurma, a registered charity which educates young people in the UK about the Asian country.
Ms Rugg from Wookey, Somerset, has been charged with drinking and driving, failing to stop at the scene of an accident and failing to report an accident.