Hillsborough police probe reaction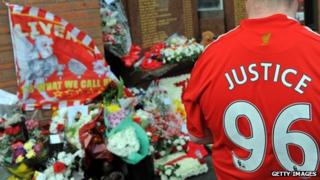 The announcement that the biggest ever independent investigation into police wrongdoing is to be carried out following damning reports into the Hillsborough disaster has prompted a variety of reactions.
Trevor Hicks, chairman of the Hillsborough Family Support Group
"The agencies of the state conspired against us. Not only did they let us down, but they conspired to shift the blame.
"What's happening now is that the agencies of the state are committing to put that right. So we genuinely feel that there is a will - probably for the first time across the board - there's a will to sort Hillsborough fairly and squarely, sort it all out, and then we can all begin to move on.
"What we have here exposed is basically a terminal illness for society, so unless we treat it properly and quickly then the whole of society should be concerned. Not just the Hillsborough victims."
Chris Sims, Chief Constable of West Midlands Police
"I welcome today's decision by the IPCC to look into the role of West Midlands Police following the tragedy at Hillsborough in 1989.
"As chief constable, I read the Hillsborough Independent Panel Report and immediately referred West Midlands Police to the IPCC.
"Today, the IPCC have accepted that referral and West Midlands Police will give their full support to the IPCC investigation."
West Yorkshire Police
"Sir Norman Bettison [chief constable of West Yorkshire] has consistently made the point since 15 September, three days after the report was published, that these were matters that needed to be investigated formally and fairly by the IPCC.
"At the time, he immediately welcomed the police authority's decision to refer this matter.
"He is on record as saying he is keen to co-operate with the IPCC enquiry, but now that has been launched, he has nothing further to add."
Deputy Prime Minister Nick Clegg
"That this should have taken 23 years to uncover.... for these awful lies to persist... is 23 years too late.
"It's a good thing the IPCC has said what it has. I hope that justice now being delivered, as it will be in the future, will be something of help."
Ian Ayre, managing director of Liverpool FC
"This is another significant step forward in the campaign for justice for Hillsborough families and survivors.
"We will follow the progress of this investigation and remain resolute in our support of the families and survivors as they continue with their battle to bring those responsible for the tragedy to justice."
David Blunkett, former home secretary, MP for Sheffield Brightside and Hillsborough
"It is entirely right that no stone should be left unturned in ensuring that the families of the victims of events 23 years ago can be assured that the truth has been revealed and those who have not been held to account should have to be.
"I hope that this can be done by cooling the temperature in a way that allows fairness for individuals and a reflection of the many officers in the South Yorkshire force who, on that tragic day, were doing their best in circumstances not of their making and where they themselves were deeply critical of the leadership they were failing to receive.
"It is critical that the present South Yorkshire force are not pilloried and that the morale of those now serving should be maintained."
Diana Holl-Allen, Association of Police Authorities
"We welcome this unreservedly. The families have waited far too long for justice.
"Let's hope we get to the bottom of this and the truth of what really happened."
Joe Anderson, Mayor of Liverpool
"The families have waited 23 years to obtain justice and this announcement sets the wheels in motion at long last.
"I sincerely hope that no stone will be left unturned in delivering the outcome that the families deserve.
"I also welcome the fact that they and the Independent Police Complaints Commission will be investigating both former and serving South Yorkshire Police officers, including Sir Norman Bettison.
"The part he and others played, revealed by the independent panel's report, showed that there must be a full investigation into their role in the cover-up."
Dr Rogan Taylor, director of the Football Industry Group, University of Liverpool
"All the potential culprits that we have been naming for the last 23 years appear to be being round up.
"There are a lot of culpable parties here and they have been whistling in the wind.
"I hope the establishment will not be able to protect itself so well in the future ever again."
Maria Eagle, MP for the Liverpool constituency of Garston and Halewood
"What's always been upsetting for the families and those of us who have campaigned on their behalf over the years is - this information has always been there.
"It's been hidden away... it's been in documentation that it took the panel to produce, to be seen in the cold light of day.
"It's always been there, stories have always been told and it is far too long, far, far too long."
Sue Roberts, secretary of the Hillsborough Family Support Group
"I just hope it all goes through, it seems too good to be true at the moment.
"I haven't heard the full detail yet but it just seems as though everything is going in our favour so fingers crossed it continues in that vein for a change."