Hillsborough: Decision over manslaughter charges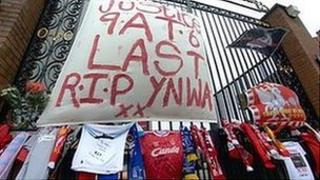 A decision over whether manslaughter charges could be brought in relation to the Hillsborough disaster will be announced later.
Director of Public Prosecutions Keir Starmer will announce if he will consider prosecutions over the tragedy in which 96 Liverpool fans died.
An independent panel blamed the police for failings at the 1989 disaster.
The police watchdog will also set out its approach to allegations police tried to blame fans.
The Hillsborough Independent Panel last month revealed 164 police statements were altered - 116 of them to remove or change negative comments about the policing of the FA Cup semi-final between Liverpool and Nottingham Forest at the Sheffield stadium.
The Independent Police Complaints Commission (IPCC) said it would review the panel's findings as well as those of previous inquiries into the tragedy.
No individual or organisation has been successfully prosecuted over the Hillsborough disaster.
In 1990, the then Director of Public Prosecutions Sir Allen Green said there was insufficient evidence to bring charges.
Ten years later, a private prosecution failed to secure convictions against two officers who led the policing operation.
But after the independent panel report, lawyers for some of the bereaved families said charges of corporate manslaughter should be considered against South Yorkshire police as well as Sheffield City Council, Sheffield Wednesday and the Football Association, who allowed the game to be played at Hillsborough in spite of safety concerns.
Mr Starmer will announce later if he is prepared to examine the evidence for bringing manslaughter charges and the breadth and timescale of any such investigation.
The IPCC has also been examining complaints made against Sir Norman Bettison, currently Chief Constable of West Yorkshire.
'My integrity'
After the independent panel report was published, a complaint was made to the IPCC that Sir Norman, who was a chief inspector in South Yorkshire at the time, supplied misleading information in the wake of the disaster.
A second element of the complaint was over comments made by Sir Norman after the report was published.
He said that Liverpool fans' behaviour made policing the tragedy "harder than it needed to be".
Last week Sir Norman announced that he is to retire in March, saying: "Recent weeks have caused me to reflect on what is best for the future of policing in West Yorkshire and I have now decided to set a firm date for my retirement."
He said he hoped his departure would allow the IPCC to "fully investigate allegations that have been raised about my integrity".