East Midland cities' anger over council tax changes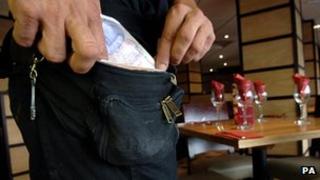 Thousands of low paid people in the East Midlands who get cash help with their council tax bills could end up out of pocket.
That's because of controversial changes to how it's funded, it's being claimed.
Now the three largest city councils of the East Midlands - Derby, Nottingham and Leicester - have become the first in England to join forces to campaign for government changes to benefit reform.
Tough times
Take the story of Wendy Morrison. She's a single mum living in the Aspley area of Nottingham.
She struggles to make ends meet. It's about to get tougher.
"My council tax is £45 a month and now they're looking for another 20% which will be virtually impossible to find," she told me.
Wendy works part-time in a pub but the pay isn't quite enough to get by.
She gets government help for her council tax bill of £450 a year.
Twenty seven thousand other people on low incomes in Nottingham also get cash help towards their council tax.
The government is shifting responsibility for paying out the benefits to local town halls - together with a 10% cut, claim the councils.
They calculate the figures now don't add up and that thousands of people will be out of pocket.
Now the three city councils are warning the benefits system could become unworkable.
In Derby, just over 15,000 people get help with their council tax bills.
Pensioners are protected by the benefit changes being introduced next April.
But the government's 10% slice means a potentially even bigger cut for the lower paid.
A two parent family in Derby will have to find an additional £10 a week.
"This is going to have a devastating impact on the poorest people in our city," said Labour Councillor Sarah Russell, cabinet member responsible for finance in Derby.
"We have already seen a sharp increase in people in receipt of food parcels in the East Midlands. And this only goes to exacerbate the situation."
Work incentives
The changes are part of the government's localism agenda.
This is a dose of coalition devolution. It's also an attempt to give councils an extra incentive to get people on benefit back into full-time work.
"From April, councils will keep more of the money they raise in business rates," the Communities Secretary, Eric Pickles, told the Conservative conference.
"So councils will have a direct interest and motivation to see their local economy grow and develop.
"Conservative councils, I know, will seize this opportunity," he added.
But for Wendy Morrison finding the right sort of job to pay the bills isn't that easy in recession Britain.
"It's not fair," she said.
"They're supposed to be helping the ordinary working person. But they're not helping us at all. They are just adding on more tax onto us.
"It's no help."
The government is still consulting on its council tax changes.
The three East Midlands city councils hope Eric Pickles is in a listening mode.