Ex-soldier bids to buy Royal Anglian Regiment 600 pints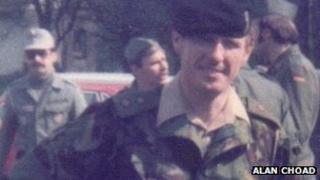 A former soldier from Cambridgeshire has set up a fund to buy 600 soldiers a pint of beer to quench their thirst after serving in Afghanistan.
Alan Choat wants to raise £2,000 to buy a pint for each soldier in 1st Battalion The Royal Anglian Regiment, known as the Vikings.
The former Royal Anglian, from Bar Hill, said the beer would help "wash the dust out of their mouths".
Donations are going to the The Royal Anglian Regiment Benevolent Fund.
The Vikings are returning from their tour of duty in Helmand, with the full 550 to 600 soldiers expected to be back at their base in Bulford, Wiltshire, this month.
'Foaming pint'
Homecoming parades for the troops are taking place in Norfolk, Suffolk, Cambridgeshire and Essex in November.
Mr Choat, 65, who served with the Royal Anglians for two years in the 1970s, said: "When we were abroad you used to think of steak, chips, mushrooms, tomatoes and a foaming pint of beer.
"I just thought as the battalion will be parading in East Anglia, it might be a nice gesture from us that have had it cushy back at home to buy them all a beer each."
He said the soldiers would be handed their beers following their parades in November.
Mr Choat said about £500 had already been raised and he was in talks with breweries to see if they would contribute to the cause.
He said any leftover funds after one pint each would go towards another beer for the troops.
In its recent tour the regiment suffered the loss of Corporal Alex Guy, who was killed in action in June.