Stephen Farrow murder trial: Workmen's 'shock' at vicar body find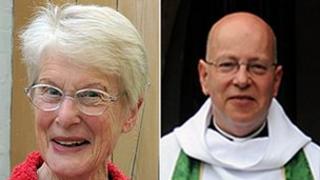 A parishioner and two workmen have told a jury of their shock at discovering the body of a vicar stabbed to death.
They found the Reverend John Suddards lying on his back in the hallway of his vicarage in Thornbury, South Gloucestershire, in February.
Stephen Farrow, 48, admits the manslaughter of Mr Suddards but denies murder.
He is also on trial at Bristol Crown Court for the murder of Betty Yates at her home in Worcestershire in January.
The court heard Tim Giles, secretary of St Mary's parochial church council, had gone to the vicarage with a spare key to let plumber Richard Gough and builder Karl Hardman into the property.
The two workmen had failed to get an answer from the vicarage on the morning of 14 February.
Mr Giles said he went to Mr Suddards's home and found all the curtains of the downstairs windows had been drawn.
He unlocked the front door with a spare key and could see in the dimly lit hallway the body of Mr Suddards.
Reflection of Christ
"I could see that his arms were folded upwards towards his body," Mr Giles said in a statement read to the jury.
"I felt he was dead. He was very cold. I said 'I think he's dead' and one of the workmen said, I think, 'Are you sure?'
"I could see blood on the floor. I think I also saw a knife, nine to 10 inches overall, with a six inch blade and handle."
Mr Giles said he went immediately outside and told the two workmen to ring the emergency services.
He added: "I felt very shocked by now. I think the two men went inside the vicarage but only a few steps."
Mr Hardman said: "I heard Tim say 'Something's wrong. He's dead, he's cold'."
He said he then went inside the vicarage and saw what he described as a cloth or piece of paper covering the lower half of Mr Suddards's body, and a bible on his chest.
His colleague Mr Gough added: "I saw Tim come stumbling out saying 'He's dead'."
He said he and Mr Hardman went inside and then came out again.
"I was really shocked by what I saw and immediately went back outside and the emergency services started to arrive, so I just stepped back and got out of the way."
Bloodstained statue
The jury was shown various items recovered from Mr Suddards's home including a bible, canvas print of Jesus Christ, a mirror, a calendar of a male model and a statue of Madonna and child.
Forensic scientist Claire Morse said the black leather-bound bible was found on the vicar's chest and his lower body - from waist to ankles - was covered by an A3-sized calendar of a partially-clothed young man.
Propped up in the hallway against the walls were the 3 sq ft framed print of Christ and the 4ft by 3ft wooden framed rectangular mirror.
Miss Morse said if you crouched down next to Mr Suddards's body you could see a reflection of Jesus Christ in the mirror.
There was also party popper string on the vicar's body, a piece of apple was recovered from between the clergyman's legs and an unopened condom was found nearby.
The knife was found by Mr Suddards's left elbow and two pairs of g-string underwear by his left hip.
Miss Morse said various pieces of food had been scattered around the hallway, including bread and a broken plate and upturned bowl, and splashes of green soup on the walls and on Mr Suddards's body.
The blood splattering in the hallway indicated that Mr Suddards had been hit while he was likely to have been kneeling down.
The two kitchen windows had been covered by a green blanket and Mr Suddards's black cloak.
Both the kitchen and the vicar's study had been ransacked and in his bedroom a small bloodstained statue depicting Madonna and child was found.
Farrow, of no fixed address, has pleaded guilty to burgling another property, Vine Cottage, also in Thornbury, over the Christmas and New Year period, where a note was found threatening to kill "Christian scum".
Farrow has a severe personality disorder, which the prosecution accepts.
The trial continues.