Student survives two meningitis attacks to graduate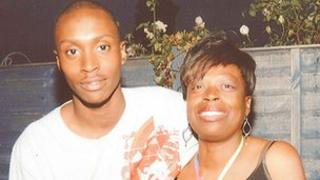 "I am grateful to everyone who helped me recover - without them I would not be here today, so close to graduation."
David Coppin has good reason to feel lucky having twice survived an attack of meningitis, contracted while he was a student at Coventry University.
As he prepares for his graduation he said he is "trying to move forward" but wants his experiences to help raise awareness of meningitis and its symptoms.
When he was taken ill, the 22-year-old, from Enfield in London, was lucky enough to have someone close at hand to recognise the seriousness of his condition.
His mother Lorraine had just arrived in Coventry to visit him in October 2009, and found her son was seriously ill.
"He put his hand out, because he couldn't see anything, and then he just collapsed," she remembers.
Priest called
She stayed with her son as he was taken to hospital and treated for what doctors initially believed was Swine Flu.
Despite their efforts his condition worsened over a week, until Ms Coppin believed she might lose her son.
"His organs were shutting down one by one and I called the priest out because I thought this was the end, and I was never going to see my son again," she said.
Fortunately a consultant spotted a barely visible pin prick rash and diagnosed that Mr Coppin had meningitis.
He was put into a medical coma for another week to allow his organs to recover, and has no recollection of the whole period.
"I remember collapsing and then I woke up in some room in the hospital - I didn't know how long I'd been out for," he said.
Lifelong medication
After spending the Christmas period at home in London recuperating, Mr Coppin went back to his sports management course in January 2010.
In March he began to get headaches again, and this time it was his flatmates who were on hand to insist that he went back to hospital.
"It was a good job they did because it was meningitis again and I don't want to think about what would have happened if they weren't there," he said.
Meningitis UK founder Steve Dayman who launched the charity after losing his 14-month-old son Spencer to meningitis and meningococcal septicaemia in 1982, said it was "miraculous" that Mr Coppin twice survived the disease and came out without any after effects.
Mr Coppin will now have to take antibiotics for the rest of his life, but was able to return to university a second time to complete his degree.
His flatmates will be at his graduation ceremony in Coventry Cathedral in November.
His mother said: "Luckily I still have my son and that is why I want to do everything I can to tell people to be alert - look out for meningitis, you can always rule it out later.
"My message is that you can survive it, you can go on to live a normal life, as long as you spot the symptoms early, get the diagnosis early and get the treatment."