Cameron says EU exit is not solution to migration fears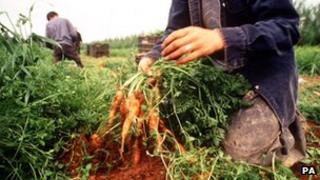 David Cameron has said pulling out of the European Union would not ease the tension caused by immigration in some communities.
The Prime Minister said welfare reform would encourage more British-born workers to compete with EU nationals in the labour market.
Mr Cameron was responding to concerns raised in a report on the impact of migration on the Lincolnshire town of Boston.
Recent years have seen a large number of migrant workers settle in Lincolnshire and surrounding counties to serve the food production industry.
Some claim the arrival of families from Eastern Europe has put pressure on public services and excluded British people from many jobs.
EU referendum?
In an interview with BBC Look North, David Cameron said: "If we have a welfare system that encourages and pays people to go out to work, rather than stay at home, there'll be more British people in those jobs and fewer people coming from Europe to do those jobs.
"But I don't want us to leave the European Union because we are a trading nation. We need those markets open."
At the Conservative Party conference in Birmingham, David Cameron suggested there could be a referendum on the UK's future in the EU.
The Prime Minister told the BBC that a public vote would be the "cleanest, neatest, simplest, most sensible" way to resolve the issue.
Some would argue that our future role in the EU (or lack of it) cannot be properly assessed until the financial uncertainty in the Eurozone is settled.
Europe on agenda
However, many of Mr Cameron's own MPs are urging him to commit to a timescale for a referendum.
Speaking to the Sunday Politics in Yorkshire and Lincolnshire, the Conservative MP for Cleethorpes Martin Vickers said: "I'd like to see the government put forward a clear timetable towards a referendum.
"I don't think the issue will be settled until the British people have had a chance to vote on it."
Whether David Cameron likes it or not, the many issues surrounding Europe are firmly back on the main agenda of British politics.