Can the young be saviours of regional dialects?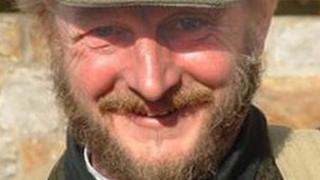 From Shetland to Scilly, groups of people are passionately committed to preserving their local dialects.
These colourfully rich ways of talking are an integral part of regional and national identity.
Sid Calderbank, from Euxton, oozes Lancastrian history and he instigated National Dialect Day three years ago.
On Saturday, the Northumberland Language Society is hosting a gathering at Morpeth Town Hall for people from all over the country to celebrate the day and discuss key issues.
'Engage the young'
As time passes, the societies have become particularly concerned at the lack of young blood to keep dialects thriving.
Mr Calderbank said: "For me, and for so many of us, it's all about unlocking the wealth of wonderful 19th Century literature. That's a huge social history within thousands of books in libraries across the country.
"Understanding the dialects is the key and in doing so we can leave footprints for the future generations to understand and enjoy too.
"It's vital we engage with young people.
"So I thought we should bring like minded folk together at least once a year to discuss relevant issues on keeping our local dialects alive and kicking," he added.
There are between 6,000 - 7,000 different languages spoken around the world.
But, according to the Foundation for Endangered Languages, within two generations most languages in the world will die out.
'Lambing season'
Jean Scott-Smith, secretary of the Lakeland Dialect Society, said they had found it difficult to attract the young, but that started to change in 2006.
"We approached the Cumbrian Young Farmers Clubs," she said, "and with 26 of them in the county they said they would take up the challenge.
"So they now have annual dialect competitions at all of their individual 'Field Days' in May - around the end of lambing - and there seems to be great interest.
"The young farmers' interest is very encouraging."
Peter Arnold, Chair of Northumbriana, has helped organise this year's gathering.
With the recent death of Bobby Hogg, the last native speaker of the Cromarty fisherfolk dialect, Mr Arnold's key note lecture at the event, will explore the status of dialects in the UK today.
He insists dialects need official recognition.
"We need to persuade government in London to give it the same importance as the Welsh and Scots' Gaelic languages," he said.
'Mongrel' language
Some people are trying a different approach to attract younger linguists.
"I know of one English teacher in Rio," Mr Arnold said.
"She has been studying the issue in Europe and feels pop music is a way to the hearts and minds of the young - it resonates with a much wider audience.
"This may well be something we will discuss further this weekend."
He said English has always been a flexible "mongrel" language with French, Latin and Greek influences being absorbed over centuries.
"We now need to address prejudices and ignorance to recognise the importance of local dialects."