Justin Lee Collins 'will never accept he is violent'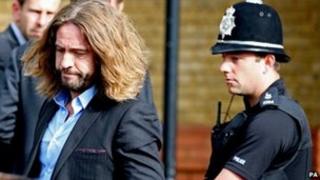 TV presenter Justin Lee Collins, who was found guilty of harassing his ex-girlfriend, has said he will "never accept" he is "violent or an abuser".
But the comic said he had decided not to appeal against his conviction.
Collins, who found fame on Channel Four's The Friday Night Project, said he regretted the "distress and anguish" caused by his actions.
He was sentenced to 140 hours of unpaid work at St Albans Crown Court for the "campaign of abuse" against Anna Larke.
After the hearing Ms Larke, from Hertfordshire, said she was "absolutely ecstatic" at the verdict.
Sex dossier
The jury backed her claims Collins subjected her to sustained emotional and domestic abuse during their seven-month relationship.
Bristol-born Collins, who lives in south-west London, made the public relations worker sleep facing him, told her to throw away DVDs because they featured actors she found attractive and made death threats against her.
Collins also kept a dossier of Ms Larke's past sexual experiences.
And jurors were played a secret recording she made of him verbally abusing her during a row, containing a string of offensive sexual insults.
The entertainer had denied the charge of harassment causing fear of violence, claiming Ms Larke was a compulsive liar.
But the guilty verdict was returned after nearly 12 hours of deliberation over three days.
'Difficult relationship'
Judge John Plumstead said carrying out the unpaid work would be "humbling" for a prominent showbusiness star but domestic violence charity Refuge called the sentence "derisory" and said it did not fit the crime.
Collins said: "I deeply regret the distress and anguish I have caused by my behaviour in what was a very troubled and difficult relationship with Anna Larke.
"After careful reflection in the last 24 hours, I have decided not to proceed with an appeal against my conviction.
"I would like to reiterate what I made clear in court, that I have never used or threatened violence against Anna Larke or anybody in my life.
"I accept that the jury have found elements of my conduct amounted to harassment, which I apologise for unreservedly, but I will never accept the allegation that I am violent or an abuser."