Thames Water bills rise to pay for Thames super sewer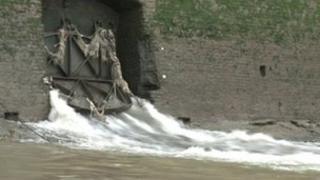 Thames Water customers have been warned their bills are likely to rise by as much as £80 a year to help pay for a £4.1bn super sewer in London.
Leaflets are being distributed to wastewater customers to warn them of the estimated £70-£80 hike, which will help pay for the Thames Tideway Tunnel.
The company provides wastewater services in London, the Thames Valley and parts of neighbouring counties.
The rise, calculated using 2011 prices, will start in 2014 at the earliest.
Thames Water said the calculations did not take into account inflation and they would not come into effect before 2014. It said the £70-£80 estimate was the "maximum bill impact" which was likely to come a few years later.
A spokeswoman said: "We previously made it clear that bills need to rise to pay for the cost of the Thames Tideway Tunnel and are now able to give our customers advance warning of the likely increase and the timing.
"Ofwat sets limits on water bills in line with the work that water companies need to do, and will scrutinise the Thames Tideway Tunnel costs to ensure they are kept as low as possible."
Iconic river
Thames Water said the new tunnel is needed to stop increasing amounts of sewage being discharged into the Thames from the Victorian sewers.
About 39 million tonnes of sewage is discharged into the river every year from 57 overflows, whenever there is heavy rainfall.
Environment Minister Richard Benyon said: "This is an iconic river. Do we really want future generations to not be able to use the river because of the high level of sewage in it? We've got to get it right.
"There's a huge economic benefit with 4,250 direct jobs and 80% of the spend on the contractors will be UK based, so they'll be huge benefits for the economy.
"I don't want to see anyone's bills go up but I think most people will see the virtue of this scheme."
The Thames Tideway Tunnel will be the width of three London buses and will run for 20 miles from west to east London, connecting up the 34 of the most polluting sewer overflows.