Only 1-in-6 speed cameras digital in England and Wales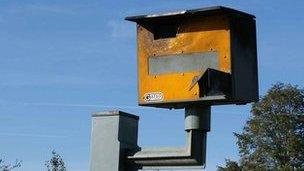 Only about one in six speed cameras in England and Wales is digital, according to new figures.
Campaigners say increasing digital camera numbers will help reduce crashes as they are more reliable than those using standard film.
Currently, almost 3,000 cameras use photographic film with just 453 digital, which operate for longer.
Thirty three out of 43 road safety partnerships responded to a survey by Road Safety Support.
Road safety charity Brake has called for greater investment in digital technology, which is currently expected to lead to the installation of nearly 200 new cameras over the next 12 months - bringing the total to 647.
However according to the figures, which were commissioned by the Association of Chief Police Officers, 18 partnerships currently have no digital cameras, with Avon and Somerset, Cleveland, Derbyshire, Essex, Gloucestershire, Northamptonshire and North Yorkshire, not planning to implement any fixed-camera digitisation programme.
Staffordshire has 262 standard, or so-called wet film, cameras and only one digital model. Lancashire has 168 devices, none of which are currently digital cameras.
Across Derbyshire, there are also no digital, but 113 wet film operated units.
Cumbria is the only road safety partnership that is fully-digital, with 15 cameras.
Sussex has 30 digital devices and authorities expect to have 18 more in the next year. It currently has 62 non-digital units.
Wales has 144 wet film cameras and 27 digital. The partnership has no plans to increase this number in the next 12 months.
Transport for London said it has recently started replacing all its older wet film safety cameras with modern and more efficient digital safety cameras.
Neil Greig, Director of Policy and Research at the Institute of Advanced Motoring, said digital speed cameras were more efficient than those that use wet film.
"The fundamental difference is that digital cameras will work 24 hours a day, seven days a week, 52 weeks a year," he said.
"Traditional cameras would stop when the film ran out so even if you were caught by the flash, you might not get fined and there was even a feeling you were 'unlucky' to actually get fined."
'Set spending priorities'
Nick Batty, from the road safety group Brake, said the charity wanted more speed cameras to be transferred to digital but recognised that road safety partnerships had suffered budget cuts, reducing their ability to update their technology.
"Speed cameras are proven to be effective in reducing devastating crashes and casualties," he explained.
"We would therefore urge the government to fund road safety partnerships so that they can invest in the most effective enforcement technology."
Road Safety Minister Stephen Hammond said: "It is up to local authorities, working with their local communities, to decide their spending priorities and to set their budgets accordingly.
"However, we would expect road safety to be a priority for local communities and for local spending to reflect this."
Deputy Chief Constable Suzette Davenport, from ACPO, said: "Using technology to make the roads safer for all drivers is an excellent example of police moving with the times."
Road safety partnerships currently without digital speed cameras
Avon and Somerset (only uses mobile cameras) *
Bedfordshire and Luton
Cambridgeshire and Peterborough
Cheshire
Cleveland (only uses mobile cameras) *
Derby and Derbyshire *
Essex *
Gloucestershire *
Hampshire
Humberside
Kent and Medway
Lancashire
Lincolnshire
Merseyside
North Yorkshire (only uses mobile cameras) *
Northamptonshire (only uses mobile cameras) *
South Yorkshire
Thames Valley
* No plans to install digital cameras. Figures from Association of Chief Police Officers and compiled by Road Safety Support.
Related Internet Links
The BBC is not responsible for the content of external sites.