Ben Gummer's war of words with Ipswich Council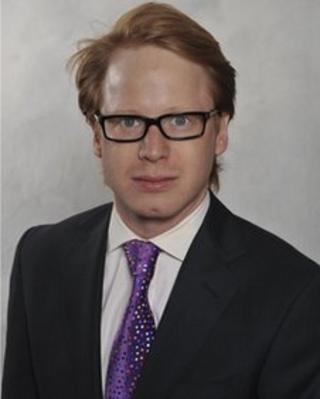 Ben Gummer has decided to attack his own local council while attending the Conservative Party conference in Birmingham.
It has sparked a war of words in Ipswich that could be the beginning of a bitter campaign in this marginal seat.
The MP for Ipswich says many local councils are "self governing oligarchies of mediocre people".
He went on to describe his own local authority, Ipswich Borough Council, as all too often "getting in people's way" and "frustrating ambition".
"The calibre of many councillors often leaves something to be desired," he said.
"Most of them can't read a balance sheet. Business councillors could release aspiration," he added.
That won't go down well with his Conservative colleagues on the council, according to Labour Council leader, and parliamentary candidate, David Ellesmere.
"There's plenty of Conservative councillors. Will they be inclined to support him in the future?"
Mr Gummer also told the fringe meeting of the 2020 group that local government needed shaking up so that councillors solely representing local businesses could be elected to town halls.
He acknowledged the idea "had no hope of getting into a manifesto" but pointed to the City of London as a model for how his idea works in practice.
The City is governed by the Corporation of London, which is the oldest local authority in England, having been founded in medieval times, and elections there give votes to both firms and residents.
'Shocking attack'
Councillor Ellesmere hit back at the criticism: "He's saying councillors are holding back business. It's Ben Gummer's government that is responsible for the state of the economy.
"We are helping. We are building new council homes, the first for years.
"A business bid has just been made for flood defences that were cancelled by this government.
"Our £1.5 million jobs and skills fund will help new apprenticeships in firms and we're holding new events to attract people to business.
"This council is doing a lot to help business," he maintained.
"It's a shocking attack. I don't think he's thought it through. I think he's rattled - half way through this parliament.
"I suspect his own party will have plenty to say to him."
I suspect they already have.
Mr Gummer tells me now that the context of his comments was a comparison between the great civic leaders of the Victorian era and those of today and that he hadn't meant to point the finger at his local council.
As a historian of some reknown there's probably not much you can teach Mr Gummer about the past; as for the present, opinion in Ipswich may still be divided.