London Midland trains disruption 'unacceptable'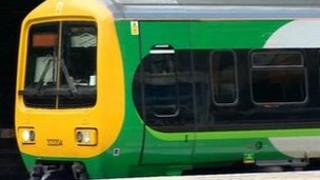 A West Midlands passenger group has said it is "unacceptable" that London Midland's train services are likely to be disrupted until mid-December.
The operator has blamed the ongoing problem on losing "an unusually high number" of drivers.
Last week it cancelled over 30 services in one day. Staffordshire, West Midlands and Worcestershire routes are expected to be the worst affected.
Travelwatch West Midlands said it wanted "a reliable service".
Phil Davis from the passenger group said: "We're not seeing the service that we deserve.
"It's not an issue of bad weather. It's really about staffing and this is something the company controls and they need to get under control.
"We're getting to the point where a complaint needs to be made to the regulator about the issue because it's really affecting daytime services as well as weekend services.
"No cancellation which is within their control is acceptable."
'Using all resources'
An RMT trade union spokesman said 31 drivers had recently joined other operators for better pay and conditions.
In a statement on their website, London Midland said staff shortages would mainly impact on services on the "Birmingham-Walsall and Lichfield-Redditch lines".
It said: "We are having to cancel a small proportion of our 1,300 daily trains when we are unable to cover the shortfall with those volunteering for overtime.
"Some additional cancellations may also result from the fact that we are having to use all our spare resources to run the normal service, leaving us little flexibility to react to 'on the day' issues.
"We have several trainees due to complete the two-year driver training course over the coming months, and we therefore expect to be running a normal service on a daily basis from mid-December."