New co-operatives produce unlikely political bed-fellows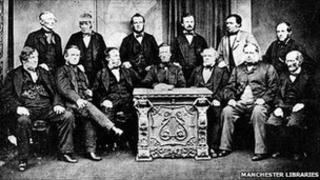 From its humble origins in 19th Century Rochdale, the Co-operative movement became a major force across England.
It is woven into the fabric of our society and the Labour Party.
The movement was inspired by Victorian radicals including the great Birmingham polemicist George Holyoake.
Co-op-sponsored Labour MPs wear the badge with pride.
These days the brand is readily associated with everything from a loaf of bread to a cheque book or even a holiday reservation.
And now, from Shropshire, comes what's being hailed as a new co-operative revolution.
New co-operatives
When Labour took control of Telford and Wrekin Council last year, they promptly declared themselves a co-op council, committed to finding practical ways of helping the community.
Twenty other councils across the country have now joined a new national network of co-operative local authorities.
A Telford apprenticeship scheme is now run as a co-operative and so are local football and ice hockey teams.
The idea appears to be spreading too.
Formed four years ago, the Schools Co-operative Society now has 340 members across the country.
With deep cuts to council budgets and the prospect of yet more to come, local authorities are having to think ever more creatively about how they deliver their services, forming new partnerships and collaborating more widely.
Changing times do tend to challenge our traditional political assumptions and question our conventional wisdom about left and right.
They can also produce some unlikely bed-fellows.
Big Society?
Not so long ago, the notion of a Conservative Co-operative Movement would have seemed like a contradiction in terms.
But that is exactly what has now been founded by the Conservative MP for Hereford and South Herefordshire, Jesse Norman.
When I read his book on The Big Society, it occurred to me that David Cameron's big idea, updating Edmund Burke's vision of 'the little battalions' volunteering to band together for the betterment of their local communities, bore more than a passing resemblance to the original Co-operative movement.
Has its time come at last?
The test will be whether or not it reaches out to people of all political colours and those of none.
And it will be one of our main talking points in the Sunday Politics this weekend from 11.00 on BBC One on Sunday, 12 October 2012.