Drinks wholesaler Waverley TBS Ltd cuts 685 jobs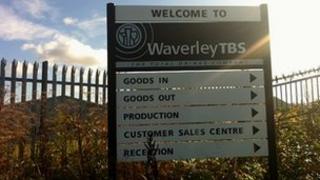 A drinks wholesale firm with offices in Tyneside, Hertfordshire and Derbyshire has made 685 staff redundant after administrators failed to find a buyer.
Waverley TBS Ltd, one of the UK's biggest drinks wholesalers with offices in Felling near Gateshead, Hemel Hempstead and Chesterfield, went into administration last week.
There have been 171 Felling job cuts.
Administrator Deloitte said it had suffered in recent years as the number of pubs and bars in the UK fell.
A spokesman for Deloitte said: "Regrettably, despite our continued efforts, we have been unable to identify a suitable buyer for the business.
"We will retain a core team of 97 employees to assist us in realising value from the company's assets.
"We are extremely grateful to the staff and management for their support throughout this difficult time."
The business was sold two years ago by brewer Heineken and supplies alcoholic and soft drinks to clients including Thorpe Park and Madame Tussauds' parent company Merlin Entertainments.