Justin Lee Collins trial judge allows majority verdict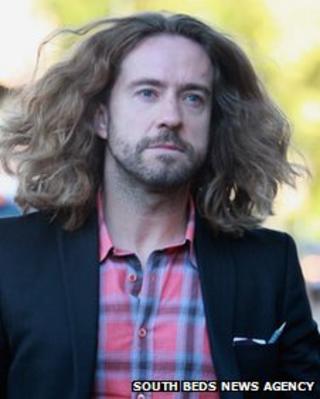 The jury in the harassment trial of television presenter Justin Lee Collins has begun its third day of deliberations.
Sitting at St Albans Crown Court, a judge gave the jury a majority verdict direction, telling them only 10 of them needed to agree on a verdict.
Mr Collins, 38, of Kew, south-west London, denies causing fear of violence to ex-girlfriend Anna Larke.
Defence teams have labelled Ms Larke a compulsive liar.
Troubled relationship
The pair met at a corporate event in 2006 and began an affair in 2007 before splitting up.
The relationship resumed at the end of 2010 after the defendant's marriage to his wife Karen, the mother of his two sons, broke down.
The couple lived together in Kew from January to July last year and had a deeply troubled relationship as Ms Larke tried to overcome alcoholism, the court has heard.
She claimed he had attacked her in a hotel room and kept a "dossier" of her past sexual encounters.
Mr Collins has been described as forcing her to come off social networking websites and throw away DVDs that featured actors she found attractive.
'Absolutely disgusted'
Ms Larke said: "He wanted a full sexual history of me. He wanted all the details and wanted to write it all down.
"He wanted to know every single person I had slept with or had an encounter with. He said it was for clarity so he could get to grips with my past.
"I felt absolutely horrible and disgusted. I was really scared. I thought I was going to lose him. He said: 'If you don't do it you will lose me'."
But Mr Collins said the seven-month relationship with Ms Larke was "absolute hell" and denied all allegations.
He said he did not want to write the details down, but she wanted to dictate to him and he believed the process would be cathartic for her.
Ms Larke also claimed she was attacked in their Miami hotel room in March last year and had not shown her doctor her bruises because she did not want to get Mr Collins into trouble.
Giving evidence, Mr Collins told the jury he only ever slapped Ms Larke to calm her down when she was allegedly self-harming.
The 11-strong jury was sent out by the judge on Saturday.