Speed camera fire: Anthony Luty and Ashley Rowland jailed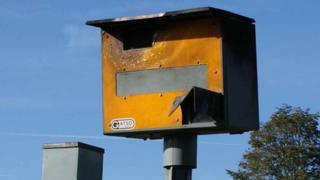 Two men have been jailed after setting fire to a speed camera in Lincolnshire to try to avoid prosecution.
Anthony Luty, 28, from Barnborough, Doncaster, was caught doing 49mph in his HGV on the A631 at Hemswell Cliff in October 2011.
Luty then asked Ashley Rowland, 23, from Mexborough, near Doncaster, to go back the next day and set fire to the camera.
At Lincoln Crown Court, Rowland was sentenced to 12 months and Luty nine.
Both men, who used to be neighbours in Harlington, near Doncaster, had earlier admitted arson charges.
The court heard that police had removed the film before the fire, "making the blaze pointless".
Lincolnshire Road Safety Partnership said: "This case sends a clear message to camera attackers. We will be relentless in taking to court those that damage public property."
The speed limit on the A631 was 40mph for lorries but 50mph for all other traffic.