East of England ambulance chief steps down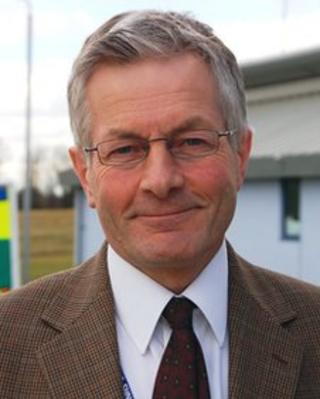 The chief executive of the East of England Ambulance NHS Trust (EEAST) has announced his retirement, following union anger over cuts and rota changes.
Hayden Newton's announcement comes days after GMB union members wrote to the chair of the trust expressing no confidence in him.
Mr Newton, who is 59 next week, will leave within the next six months.
Chairwoman of the EEAST Maria Ball said he would be "greatly missed" and "a hard act to follow".
Ms Ball said that under his leadership paramedic numbers had increased, more front line staff were still being recruited and quality of care had improved.
"Thanks to Hayden's stewardship EEAST is now a stable, sustainable and financially sound organisation," she said.
Mr Newton said: "EEAST is a great place to work.
"We have outstanding staff who work hard to deliver the best possible service to our patients who call us when they are in their greatest need.
"Now I am nearing my retirement age, I think the time is right to pass the baton onto a new chief executive whilst I look for a new focus in my life."
'No confidence'
The trust has faced criticism in recent months over its plans to save £50m over five years, with the union Unison claiming the scaling down of resources would put patients at risk.
The EEAST has said any changes would be monitored and there were plans to recruit 114 emergency care assistants and 24 paramedics.
Plans to reduce services in North Norfolk led to a 6,000 signature petition and the trust promising to continue a review.
Last Friday Tony Hughes, GMB union organiser at the East of England Ambulance service said ambulance members had expressed a vote of no confidence in Mr Newton as the chief executive of the ambulance trust.
Mr Hughes said that planned changes in rotas would have no benefit to patients.
"At this stage I do not believe that the chief executive has the support of the staff and is able to lead the trust in a manner that will provide the best service to the people our members serve."
Mr Newton began his career in the ambulance service more than 30 years ago.
The East of England Ambulance NHS Trust serves Bedfordshire, Cambridgeshire, Essex, Hertfordshire, Norfolk and Suffolk.