Fears north-east England is 'losing jobs' to Scotland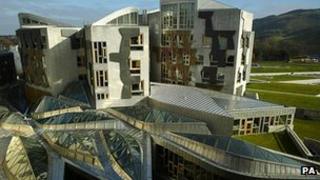 Jobs and investment in north-east England may head north because Scotland can inject more cash into its economy, business leaders fear.
They are concerned that, with regional development agency One North East's closure, the area is falling behind.
Research commissioned by BBC Newcastle showed Scotland spending more on economic affairs than the North East.
The UK government said its plans would bring more regional investment and create jobs in the long term.
While the north-east of England borders Scotland, investment in the economies of the English region and the Scottish nation are markedly different.
The research shows Scotland spent 76% more per head of population on economic affairs than north-east England in 2010/11. That includes transport, science and technology, housing, agriculture, fisheries and forestry.
In 2010/11, Scotland spent £1,033 per head of population on economic affairs. In the same period £587 per head was spent in north-east England.
'Demolished overnight'
The figures come from research for BBC Newcastle by the firm ERS and are taken from HM Treasury Public Expenditure Statistical Analysis.
North-east England does, however, spend more on employment policies - 34%.
One North East (ONE) was phased out in April 2012 but effectively stopped spending money in 2010 when the Coalition government took office.
The Conservatives had pledged to replace regional development agencies in England when they came to power.
One North East's equivalent in Scotland - Scottish Enterprise - has remained in place.
Commenting on the research, James Ramsbotham, from the North East Chamber of Commerce, said: "The regional development agency was demolished pretty much overnight and losing all of that support instantly.
"It takes a long time to get all of the other things up and running."
The government has set up a multibillion-pound Regional Growth Fund (RGF) to replace development agencies in England.
It has also backed Local Enterprise Partnerships (LEPs) - collaborations between groups of councils and businesses designed to attract investment.
There are two LEPs in the North East.
Amazon jobs
However, Mr Ramsbotham does not think these are adequate replacements.
He claims the amount being spent by the regional growth fund is "tiny" and that LEPs will take time to deliver real investment and growth.
Mr Ramsbotham and other critics point to online retailer Amazon as an example of how his region is losing out.
In 2011, Amazon chose to create more than 1,800 jobs in Dunfermline, Inverclyde, and near Edinburgh, instead of taking them to Tyneside, as it had been considering.
The development agency Scottish Enterprise and the Scottish government backed the project with about £11m of public money.
Keith Burge, from ERS, said: "An investor looking at the North East has to traipse round the whole of the North East knocking on a variety of doors.
"They go up to Scotland, they go and see Scottish Enterprise, it sorts out grants for the land, it sorts out grants for training, it sorts out all of the support that they require and that obviously makes it a whole lot easier for them."
Scottish National Party MSP Christine Graham, whose constituency borders England, says devolution is the most important factor in Scotland's spending choices.
Development agencies 'inefficient'
She said: "What it does demonstrate is that when you have some freedom from Westminster to run your affairs in your own way, not only can you invest that money in a different way and apply it to lever-in private funds to bring businesses in, you can also - with that money - have a different kind of social justice, different priorities for society."
The UK's Coalition government claims regional development agencies were inefficient and says the new LEPs and the Regional Growth Fund will bring more investment and create more jobs in the long run.
Speaking to the BBC, Prime Minister David Cameron said: "I've said to business organisations, anything you can think of that will make a difference to getting our economy growing and doesn't mean abandoning the need for difficult spending decisions, I will consider."
He added the Coalition had introduced planning reform, housing reform, cut taxes, introduced enterprise zones and invested in infrastructure projects all to boost the economy of places like north-east England.
In 2004, people in north-east England voted "no" in a referendum on whether to set up an elected regional assembly.
Then Deputy Prime Minister John Prescott admitted his plans for regional devolution had suffered an "emphatic defeat" after 696,519 (78%) voted against the plans.