Dorries warns Cameron of possible leadership challenge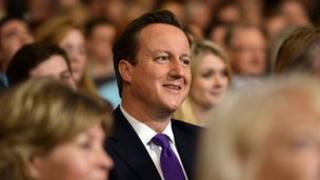 It's very easy to dismiss Nadine Dorries as a maverick but her views are undeniably reflected more widely in the Conservative party by MPs who are more reserved over voicing them.
In April she dismissed the Prime Minister and Chancellor as being "two arrogant posh boys".
Last month she called for a "kill Cameron strategy", although she subsequently said she was speaking metaphorically, rather than pressing for a leadership change.
The tone may be shrill but the sentiments are shared, if comments we have heard are anything to go by.
Ms Dorries has her admirers among the party grass roots, who feel that she understands them.
She recently received a standing ovation after a speech in St Neots and you would ignore her at your peril.
So her analysis of where the Tory party is at - as it gathers for its annual conference in Birmingham - is at least worth considering.
"There is an atmosphere of despondency among the activists," she tells us.
"They'd like to see us doing better in the polls and they'd like to see more Conservative policies coming through."
"I think we're at a tipping point as a party and I think after this conference things have to get better, and quickly, and we have to see big improvements in the polls and at the County Council elections next year."
"We'll all be behind David Cameron if David Cameron looks like a winner in 2015.
"If David Cameron looks as if he's going to lose the 2015 election I think a challenge to his leadership is a real threat indeed."
Lib Dem divorce?
She says activists feel that the Liberal Democrats have too much of an upper hand in the coalition.
"I think Nick Clegg crowing that (the party) are driving the government's agenda will stick in the craw of many Conservative activists.
"We need to say enough is enough - it's now time for Conservative policies to dominate."
In particular, she says the Prime Minister must talk more about tax cuts, promise a clear in/out referendum on Europe, and do more to improve infrastructure.
"We want to see him coming out with really strong policies which we'll recognise as Conservative policies."
The Conservative party of this parliament has become quite rebellious.
We believe that around half of MPs in the Eastern region have voted against the government or spoken out over the last year on issues as varied as House of Lords reform, wind farms or the coalition.
And in recent weeks David Ruffley (Bury St Edmunds) has complained about the Lib Dems wagging the Tory Dog.
Brian Binley (Northampton South) has accused the Prime Minister of being Nick Clegg's chambermaid while Peter Bone (Wellingborough) has said that, as in an unhappy marriage, there should be an early divorce with the Lib Dems.
Strong leadership
The Prime Minister told the Sunday Politics East this week that coalition can be frustrating at times but he believed it was right for the country.
"Without a coalition we wouldn't have a majority, we wouldn't get things done," he said.
"The vast majority of Conservatives know these are tough times and require difficult decisions and strong leadership."
It's strong leadership that party activists are looking for.