Science research centres planned across England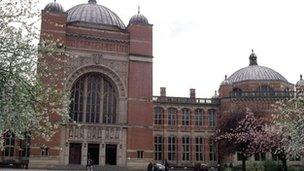 Five universities across England are set to benefit from a share of £200m of government money earmarked to boost research in science.
Warwick, Birmingham, Surrey, Oxford and Liverpool universities are those in line to receive funds.
Part of the deal requires private firms or charities to at least double the investment from the government.
It is hoped that centres for mobile communications, chemistry and cancer research will be among those created.
The money, announced by chancellor George Osborne at the Conservative Party conference in Birmingham, will come from the government's UK Research Partnership Investment Fund.
Mr Osborne called it a "modern industrial policy" and said total investment across all sectors would be closer to £1bn.
Some £15m of public money will be given to the University of Warwick in Coventry to help set up a £92m campus for automotive technology. Jaguar Land Rover and its parent company Tata are expected to invest in the project.
The University of Birmingham will partner Rolls Royce to launch a research centre for components like turbine blades and produce the next generation of engineers.
A chemistry research hub will be set up in the north west by the University of Liverpool which plans to develop the centre in association with Unilever. The materials innovation factory will be home to some 140 researchers from the university.
A £138m cancer research facility is planned in Oxford where the university will work with Oxford University Hospitals NHS Trust and Cancer Research as well as a number of healthcare businesses.
The University of Surrey will get over £11m from the government to develop a 5G centre for mobile communications.
Related Internet Links
The BBC is not responsible for the content of external sites.