Stephen Farrow murder trial: Defendant 'seen' near victim's home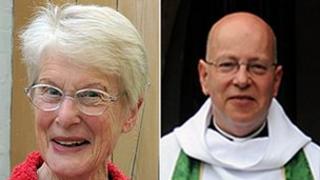 A couple walking along a river bank near to where a retired teacher was murdered saw a man "on a mission" the day she was killed, a court has heard.
Julia Sealey and Linda Probert described seeing a man walking past them - away from Betty Yates's home in Bewdley, Worcestershire
Bristol Crown Court heard Mrs Probert went on to identify defendant Stephen Farrow as the man that had passed them.
Farrow, 48, denies killing Mrs Yates and also denies murdering a vicar.
He has admitted the manslaughter of the Reverend John Suddards, in Thornbury, South Gloucestershire, on the grounds of diminished responsibility.
Mrs Yates, 77, was found stabbed at her cottage on 4 January, having been killed two days earlier.
Mrs Sealey told the court they had been taking photos of Mrs Yates' "picturesque" Riverside Cottage while out walking on 2 January.
She said: "There were lots of people who walked past us, but there was one chap in particular who walked past who seemed to be on a mission."
'Defendant not present'
The couple attended an identification procedure during which they were separately shown nine photographs of different men.
Mrs Sealey was unable to say whether any of the pictures were of the man she saw on 2 January, but Mrs Probert identified a picture of Farrow.
Farrow, of no fixed address, refused to come up from the cells to sit in court on Monday.
Trial judge Mr Justice Field told jurors it was Farrow's right not to be present and they should not hold this against him.
Mr Justice Field said: "You will see the defendant is not present in court. In fact he is in the building and has been seen by his lawyers.
"He is represented by experienced counsel and I am content the trial can continue in his absence.
"I will give you further directions about this in due course," he added.
Farrow admits burgling another property, Vine Cottage, near Bristol, over the Christmas and New Year period.
He is alleged to have murdered the vicar between 12 and 15 February.
The trial continues.