Avon and Somerset PCC elections: Sue Mountstevens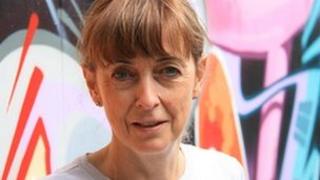 An independent police candidate for Avon and Somerset has pledged to reduce crime further if she is elected.
Sue Mountstevens, a former magistrate and businesswoman, has also said she would focus on crime prevention so people "can be safe and feel safe".
Ms Mountstevens said: "I want to bring the voice of residents right to the core of policing decisions."
She is one of five candidates running in the police and crime commissioner elections on 15 November.
"I want to do more on targeting prolific offenders and identifying repeat offenders," she added.
"I want to protect PCSOs [police community support officers] and officers in neighbourhood policing teams - they need to listen to the whispers and they are our intelligence which can prevent repeat crime."
'More beat bobbies'
Ms Mountstevens said crime could be further reduced by adopting new technology.
"There is now software being used in America that can look at crimes that are happening in specific places - so we can send police to the right place at the right time," she said.
She added that police could also use mobile fingerprinting devices or carry facial recognition or "small CCTV cameras" to spot criminals.
Another pledge is to "keep politics out of policing" as an independent candidate.
Ms Mountstevens has promised a fairer budget settlement "to put more bobbies on the beat".
She said if she can reclaim the £20m withheld from Avon and Somerset by the government this year, she would spend this on an extra 450 officers in the district.
Also standing is Pete Levy for the Liberal Democrats, Ken Maddock representing the Conservatives, John Savage for Labour and Ian Kealey for UKIP.