Soldiers finish 434 mile run to mark Afghanistan fallen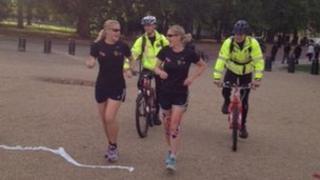 Two soldiers have completed a 434 mile (698km) run to mark the number of UK service people killed in Afghanistan.
Sgt Sonia Clamp, an Army physical training instructor from Shrewsbury, and Captain Nicky Jefferson, of the Royal Signals in Nottingham, began the run 11 days ago.
They finished their run at Sgt Clamp's base in Ternhill, Shropshire.
More than 100 soldiers from the Ist Battalion, the Royal Irish Regiment, ran the last mile with them.
Money raised will go a charity helping injured soldiers and bereaved families.
Rehabilitation grants
The two soldiers left on their Afghan Memorial Run from the National Memorial Arboretum in Alrewas, Staffordshire, on Thursday, 27 September.
The route took them to RAF Brize Norton and Royal Wootton Bassett where soldiers' bodies have been repatriated, and to Birmingham's Queen Elizabeth Hospital, which treats many injured soldiers.
They also ran to Hereford War Memorial, Sandhurst and Headley Court's rehabilitation unit in Surrey.
They have run the equivalent of about 16 marathons in 11 days to mark the 11th anniversary of the conflict.
Richard Hackett, the Soldiers' Charity's regional director for the West Midlands, said: "The money raised will go directly to helping soldiers and their families in the region.
"Specifically we give grants to wounded and injured soldiers undergoing rehabilitation at the personnel recovery Unit at Shrewsbury."