Terry Hammond's Thames River 'water cycle' disrupted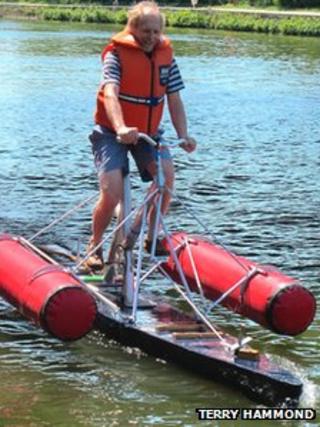 A man who is "water cycling" on the River Thames for charity has had to abandon part of his journey due to "high and fast flowing water levels".
Terry Hammond, 65, from Southampton, planned to pedal 142 miles (228.5km) on a floating bicycle from Lechlade, Gloucestershire to Vauxhall, London.
He had to by-pass Oxford following Environment Agency red board warnings for boaters about strong stream flows.
He will continue his journey in aid of Mental Health Illness from Abingdon.
A flood alert has been issued for the River Ock from Watchfield to Abingdon, and also the Letcombe Brook at Wantage, Grove and East Hanney.
The rainfall on Friday night caused river levels to rise. No property flooding is expected and the weather forecast is for a dry weekend with sunny spells.
Roller blades
Mr Hammond will also travel via Maidenhead and Windsor, and hopes to raise £1,000 as well as awareness of mental illness.
His son Stephen, 34, was diagnosed with schizophrenia in 1998, which Mr Hammond believes was caused by cannabis use.
"He started smoking cannabis when he was 17," Mr Hammond said. "By the time he was 20 he was bingeing on joints and smoking up to 10 a night at the weekend."
Mr Hammond said his son's illness began as extreme lethargy and increasing paranoia, including the belief that people could hear his thoughts.
He now takes medication and attends therapy sessions.
In 2005, Mr Hammond became the first person to roller blade up Ben Nevis, Scotland, using specially designed blades.
His current challenge finishes on Wednesday to coincide with World Mental Health Day.