Oxford Dictionary: Tracing blue-arsed flies and Bellinis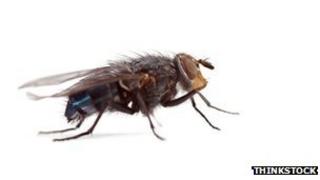 Most of us are familiar with the meaning of "running around like a blue-arsed fly", but where exactly did this peculiar phrase come from?
Editors at the Oxford English Dictionary (OED) are appealing for the public's help in tracing the history of English words and phrases such as this.
They want to unearth new information about the roots of English, including early examples of particular words.
The OED Appeals website has been set up where people can post evidence.
Takeaway menu
Words lexicographers currently want to trace include cooties, disco and Bellini.
Appealing for public assistance is nothing new, as back in 1859 the OED asked for help from thousands of readers.
However, OED chief editor John Simpson said the online appeal meant the public would be in "conversation" with the dictionary's professional lexicographers more directly than ever before.
He said: "When researching and revising entries, our team of editors use the OED's famous citation files - gathered over more than a century - as well as the latest digitised databases and corpus evidence.
"Nonetheless, the very first recorded usage of many words can be difficult to track down.
Giovanni Bellini
"We can trace certain words and phrases back only so far with conventional tools.
"An old takeaway menu, a family letter or album or an obscure journal might hold the key to solving one of those mysteries."
Bellini, the cocktail made with Prosecco and peach puree, originated in Harry's Bar in Venice.
"In fact I have had a drink of Bellini at Harry's Bar," said OED editor Fiona McPherson.
"It was named, though, in 1948 after painter Giovanni Bellini - but our earliest evidence isn't until about 20 years later in 1965 - so what happened in those previous 20 years?
"Why can we not find any evidence for it? We're hoping maybe that some guidebooks or travel writing notebooks - that kind of thing- might be a place where you [the public] can help."