Stephen Farrow murder trial: Kill threats 'made before'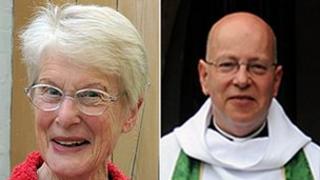 A man accused of murdering a vicar and a former school teacher had previously made threats to kill an elderly woman, a court has been told.
Stephen Farrow, 48, admits the manslaughter of the Reverend John Suddards on the grounds of diminished responsibility but denies his murder.
He also denies killing Betty Yates who was found stabbed in Worcestershire.
Bristol Crown Court heard Mr Farrow had admitted in 1994 to an aggravated burglary in the West Midlands.
The jury was told the owner of the house in Stourbridge, Stella Crow - then aged 77 but who has since died - opened her front door to a man, "in his 20s", who initially said he was meeting someone at the property.
He subsequently followed Ms Crow into the home where he produced a knife with a "12-inch blade", the court was told.
'Stabbing stance'
Edward Burgess, for the prosecution, said the intruder had demanded to go into one of the rooms.
He told jurors Ms Crow said she had shouted for help, but the man said he had known nobody was at home.
In her statement, parts of which are disputed by the defence, Ms Crow said: "He asked for money and jewellery.
"Then he said that if anyone came in, he would kill me and the dogs. He said, 'I have killed before'.
"He was holding the knife above my head in a stabbing stance."
As well as the manslaughter in February of Mr Suddards at his home in Thornbury, near Bristol, Mr Farrow, of no fixed address, admits burgling Vine Cottage, also in Thornbury, over the Christmas and new year period.
Michael Fitton QC, for the prosecution, said forensic evidence, including links to the footwear worn by Mr Farrow at the time of his arrest in February, connected this burglary with the two killings.
The jury was told Mr Suddards, 59, was killed at his home next to St Mary's Church in Thornbury, South Gloucestershire.
It happened just weeks after the burglary at nearby Vine Cottage.
Mr Farrow has admitted the manslaughter of Mr Suddards on the grounds of diminished responsibility due to his mental state, but denies murder.
On Thursday jurors heard that Mr Farrow covered the reverend's body with pornography and condoms and an open bible was left on his chest.
The defendant also denies the murder of retired teacher Mrs Yates, 77, who was found stabbed to death in her cottage near Bewdley on 4 January.
The trial continues.