Brothers Grimm fairy tale published after 60 years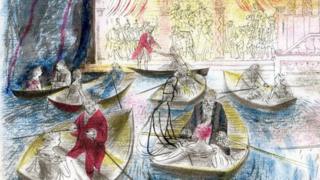 A version of a Brothers Grimm fairy tale unpublished for 60 years has finally been printed.
For several years artist Sheila Robinson's 1940s illustrations of The Twelve Dancing Princesses were kept at the Fry Art Gallery in Saffron Walden.
Cambridge's Anglia Ruskin University has now published them, 200 years after the original Fairy Tales were printed.
It is thought Ms Robinson hoped Puffin would publish the work, but the company became non-fiction only, after the war.
Her original book is a handmade, hand-bound edition, created to exactly mirror the format of the Picture Puffin series of the time, alternating colour and black and white pages.
'Worn-out shoes'
Ms Robinson's daughter, artist Chloe Cheese, who had donated her mother's work to the Essex museum, said: "The beautiful pen and ink drawings and delicate text of this book fascinated me when I was a child and drew me into the enchanted world of the fairy tale.
"Although she hoped for publication at the time, she was still a young woman and I think other things such as working on The Festival of Britain, marrying and having children took over her life so this book was put to one side."
The Centre for Children's Book Studies (CCBS) at Anglia Ruskin University worked closely with a design company to scan and retouch the book for publication.
Professor Martin Salisbury, CCBS director, said: "A gap of more than 60 years between the creation of this book and its publication has done little to diminish its freshness in terms of concept, design, colour and draftsmanship."
The story of The Twelve Dancing Princesses appears in the 1812 original Grimms' Fairy Tales - written by brothers Jacob and Wilhelm Grimm - under the title of Die Zertanzten Schuhe, meaning "the worn-out dancing shoes".