Funeral of Weymouth powerboat crash victim Mike Lovell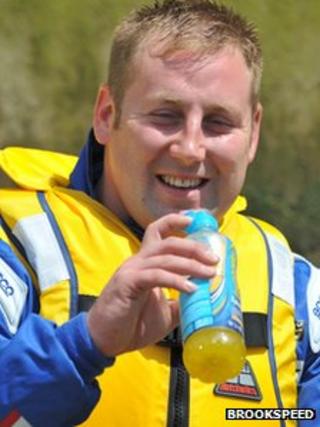 The funeral has been held of a powerboat racer who died after his craft flipped over during a race in Dorset.
Mike Lovell, from Southampton, suffered multiple injuries when his boat crashed in Weymouth, on 16 September. He died later in hospital.
His team mate, navigator Dan Whapples, was seriously hurt but survived.
The funeral was held at St Mary's Church in Sholing, Southampton.
The cortege left Brookspeed Motorsport on Empress Road.
'Massive impact'
The service was followed by the internment at nearby St. Mary Extra Cemetery.
Speaking after the funeral, Mr Whapples, recalled how he "remembered everything" of the accident.
"We were just going into a corner...we came in nice and tight and just got out of shape and the boat flicked us out.
"There was a massive impact on my back. I came to the surface but I couldn't move or speak."
Mr Whapples, whose lung and liver were penetrated by the propeller, which also fractured his shoulder and ribs, added: "I'm not sure how or why, Mike and I got hit by the same boat but in different places."
Final race of season
The two men had been taking part in the national powerboat racing championship in Weymouth Bay and were in the last race of the final round of the season when the accident happened.
Witnesses said their craft got caught up in the wash of the other boats and "barrel-rolled" throwing both men clear.
They were both pulled from water within minutes but despite being airlifted to Southampton General Hospital, Mr Lovell died overnight.
Mr Whapples was also taken to hospital but has since been discharged and is now recovering at home.
A spokesman for race organisers P1 SuperStock said: "Since the incident in Weymouth, the powerboat racing community has united in grief to express its sadness at the loss of Mike Lovell and to send us their heartfelt tributes.
"Our thoughts remain with Mike's family and friends."
He said all the messages they had received would be incorporated into a book of condolence and passed to Mr Lovell's family.
An investigation into how the accident happened is continuing.
Remembering a young racing driver whose life was cut short. A parade of supercars left the place where Mike Lowell had worked as an engineer. Leaving Brookspeed in Portswood the cortege made their way through Southampton eventually arriving in Sholing where hundreds of mourners came to say their last goodbye.
Speaking at the ceremony - a tribute from a group close to Mike, known as Dan and friends.
< he loved every minute...everything was a race did more in 27 yrs than most people >
According to his friends, Mike was living the dream - racing was his life - but nearly 3 weeks ago - he paid the ultimate price. The boat he was in flipped over in a race in Weymouth. Mike and his navigator Dan Whapples were struck by a pursuing boat and suffered serious injuries. The following morning, Mike Lovell succombed to his injuries at Southampton General Hospital. Today his teammate who was with in the boat with him on that fateful day - told us what happened.
< Dan Whapples - I remember everything....feel lucky >
Today Mike's mother, Tracy paid tribute to her son and felt appreciative she was able to spend the last few moments with her son.
<clip, Tracy>
Friends and family gathered to honour the man they knew as G-man due to his love of Golf cars.... today's service was also a cruel reminder of the risk some sportsmen take. DS, BBC South Today in Southampton.