Cameron attacked over rail and aviation policy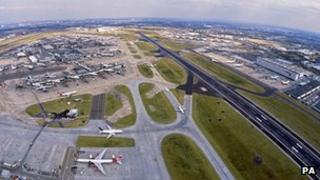 If there's one thing that gets people going in the South East it's transport.
Understandably so.
Hundreds of thousands of people commute into London on a daily basis for work, so rail links and fares are hugely important.
Aviation is also a big issue. Gatwick is the second biggest airport in the UK.
But with business clamouring for more aviation capacity in the South East could Gatwick provide an answer with a second runway, which could be built after 2019?
Or could Manston airport in Kent help offer a solution to the lack of capacity?
According to Theresa Villiers, the former Transport Minister, it could.
But she's now left the department - as has the former Transport Secretary, Justine Greening.
Both have moved on but left a major headache behind.
Rail debacle
It was revealed this week that rail franchises, including Thameslink, have now been put on hold, after ministers found "significant flaws" in the bidding process on the West Coast Main Line.
The government has admitted getting its figures wrong - the fiasco could cost the taxpayer £40 million - and three civil servants have already been suspended.
Labour has accused Ms Greening and Ms Villiers of being asleep on the job.
But this is also hugely embarrassing for the government.
It's the last thing David Cameron needs as he prepares to face delegates in Birmingham for the Conservative Party's annual conference.
When I spoke to him he didn't hide his anger.
He reassured customers that the railways would continue to run as normal.
But he said: "Clearly this is very disappointing. I'm extremely angry about how this was allowed to happen. Clearly there has been a fault in the department.
"We need to get to the bottom of that and that's why a review will be carried out."
He warned that if mistakes have been made people would pay the price for that.
His problems didn't end there though.
Aviation controversy
He and Boris Johnson, the Mayor of London, may be former school mates and went to Oxford together, but his old friend is not scared of making trouble for the Prime Minister.
In the run up to conference he launched his strongest attack yet on aviation policy in the South East.
He said: "The government programme to address the looming aviation capacity crunch in the UK is far too slow and I am hugely concerned that their intended timetable sets a course for economic catastrophe."
The criticism is damaging for the Prime Minister as critics accuse him of dithering over the big decisions.
The aviation review will not report back until 2015 - after the next general election.
He also appears to be presiding over a Department for Transport which is in disarray - unable to decide future aviation strategy but now unable to award rail franchises.
This has led to Holyrood's Transport Minister branding the department as "shambolic".
The new Transport Secretary Patrick McLoughlin has a lot to get to grips with.
He's already ordered two independent reviews into railway franchising.
He'll also have to give evidence to the Commons Transport Committee within weeks when he's likely to face some very tough questions.