PC Fiona Bone funeral: Manchester falls silent for PC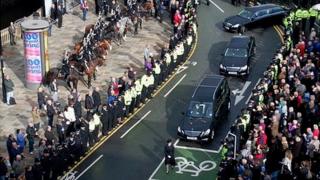 One of Manchester's busiest roads fell silent as police officers and members of the public gathered to pay their respects to PC Fiona Bone.
Hundreds of people lined the route along Deansgate to Manchester Cathedral to remember a constable described by the head of Greater Manchester Police as a "calm, gentle woman".
The 32-year-old was shot alongside PC Nicola Hughes when they were called to a burglary in Mottram.
The funeral of PC Hughes, 23, took place in Manchester on Wednesday.
PC Jo Hooper, from Cheshire Police, was off duty but decided to travel from Wilmslow to attend with more than 30 of her fellow officers from the force.
Showing solidarity
She said: "I felt coming here was the right thing to do as it could have been any one of us, we are sent out on exactly the same jobs as she was sent out on.
"I was stopped out of the blue in a village on Monday, someone said 'we do appreciate the work you do, we thought of you on the day your colleagues were killed'.
"We know the majority of the country support us in what we do, so it's comforting."
Police officers from forces around the UK travelled to the city to attend.
Inside the hearse, PC Bone's police hat and gloves lay on her coffin, which was covered in a black cloth with the logo of GMP visible.
Tom Pickford, 59, works in a building on Deansgate and watched the funeral cortege pass his office door before he started work.
He said: "I think it was a landmark - not just for Manchester, but for everyone, just one of those moments in life which you will always remember.
"I've worked in Manchester for 20 years and I've never seen a turnout on this scale, but it doesn't surprise me, everyone is making a stand together."
Some businesses on Deansgate allowed workers to start work late so they could stand on the side of the street.
Bank staff, retail assistants, construction workers and office workers all paused alongside police officers to bow their heads in respect.
A glass office building opposite Manchester Cathedral paid their own tribute by fitting a large set of flowers in the window spelling RIP.
Vinnie Virgo-Brown, a street pastor for Manchester city centre, said he decided to come down "to show solidarity".
He said: "I work with the police on patrol in the city late at night, the job they do takes real bottle.
"I'm still absolutely shocked by her and PC Hughes's deaths, but the number of people here is absolutely fantastic, it brings a tear to my eye.
"They died just doing their job, no questions asked."
As the cortege approached the cathedral, sections of the crowd applauded. A silence then followed, which was only broken by a lone bagpiper playing as PC Bone's coffin was carried into the building.
Lucy Astley, from Manchester, said it was important to be stood on the street to "show her appreciation for what the police do".
She said: "I think Manchester shows a lot of support as a city, whenever that support is needed.
"During the riots last year we all pulled together and helped deal with it - this is different but it shows what we are like as people."