Justin Lee Collins trial: Jury hears star's 'demon' rant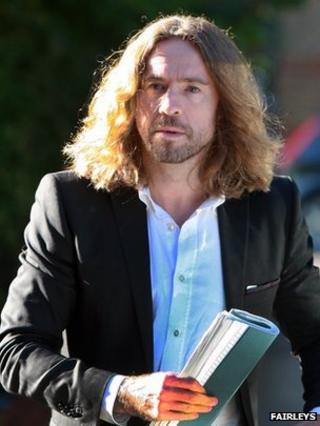 TV star Justin Lee Collins's relationship with an ex-girlfriend accusing him of harassment brought out "the demon" in him, a court heard.
Mr Collins, 38, of Kew, London, had a seven-month relationship with Anna Larke last year.
St Albans Crown Court has heard a secret recording Ms Larke, 38, made of the entertainer verbally abusing her during a row last July.
Mr Collins denies harassment causing her fear of violence.
The jury was played the recording, on which Mr Collins is heard telling Ms Larke she brings out "the demon" in him, and insulting her with a tirade of grossly offensive terms.
'Sex addict'
Mr Collins, who rose to fame with Channel 4's The Friday Night Project, said the "rant" was completely out of character and it sounded "like someone else".
Prosecuting barrister Peter Shaw said: "You are telling her there is something about this relationship - something about her - that brings the demon out in you."
Mr Collins, a father of two, said: "That's not true."
In the recording he is heard calling Ms Larke a "slag", a "whore" and a "sex addict".
Mr Collins was in "meltdown" after his relationship with Ms Larke, a recovering alcoholic, hit rock bottom, he told the jury of nine women and three men.
Mr Collins's former wife Karen told the trial they were still friends and he was a "lovely, genuine person" who was never violent to her.
She said he was a "lovely dad" to their sons Archie, seven, and Harvey, four.
'Down to earth'
Asked to describe him, she said: "Gentle, not aggressive, kind and generous."
She added that he never tried to control her. "I was always free to go out with friends if I wanted to."
Mr Collins's friend Boyd Hilton, a journalist on Heat magazine, described him as "incredibly friendly, funny and down to earth".
Mr Hilton, who ghost-wrote Mr Collins's autobiography and has been on several holidays with him, said: "He is obviously quite famous but is always very normal.
"He is really quite shy. He doesn't really like the showbusiness world and he doesn't hang out in that world."
Mr Hilton joined the defendant and Ms Larke on holiday in New York in March last year when she alleges Mr Collins bruised her face.
He said he had seen no bruises and said Mr Collins was "always very supportive of her".
The trial is set to resume at 10:00 BST on Friday when counsel will make closing speeches and Judge John Plumstead will sum up.