BBC Local Radio Beatles competition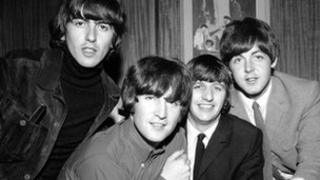 Throughout Friday BBC Local Radio is marking 50 years since The Beatles released their first single Love Me Do.
Listeners are being offered the chance to win a commemorative gold disc of the single. Listen to your local BBC radio station for the question and how to enter.
Terms & Conditions
1. Entry is open to all UK residents (including Channel Islands and the Isle of Man), except BBC employees or those of its affiliates and their close relatives or any person connected to the competition.
Proof of identity and eligibility may be requested.
2. The competition will be featured across 36 BBC Local Radio stations from 06:009 BST to 18:00 on Friday, 5 October 2012.
3. Listeners will hear a Beatles-related competition question and be invited to text their answer. BBC Radio Jersey's competition text number will be 07786 202888 and for BBC Radio Guernsey 07786 200932. Contestants from the Channel Islands will start their texts with the word Beatles, followed by their answer. For all other participating BBC Local Radio stations, text your answer and name to 81333 followed by the word Beatles. (Standard message charges will apply and may be included in your telecom provider's call package).
No other method of entry will be accepted. Only one entry is allowed per listener.
Entrants under 16 years of age will need the permission of a parent or guardian to enter.
4. Entry is only open during the times announced on-air. Entries received outside these times will not be registered.
The opening and closing times may change so please listen to announcements during the day.
5. The Entrants' information requested will be handled by the BBC in accordance with the Data Protection Act 1998.
6. The BBC will only ever use your personal details for the purposes of administering this competition. Your personal details will only be kept for as long as necessary.
Please see the BBC's Privacy Policy.
7. The winner of the competition will be the entrant drawn at random from all correct entries to the competition.
8. The winner of the competition and the answer will be announced on the participating station's Breakfast Show after 08:00 BST on Monday, 8 October.
9. The prize is one commemorative framed gold-coloured disc with the winner's name inscribed on a brass plaque. There is no cash alternative.
10. The BBC's decision as to prizes awarded is final. No correspondence relating to the quiz will be entered into.
11. The BBC reserves the right to:
(i) amend these terms and conditions and vary the competition opening times;
(ii) disqualify any entrant who breaches the rules or has acted fraudulently in any way;
and; (iii) cancel the competition, at any stage, if in its opinion it is deemed necessary or if circumstances arise outside its control.
12. The BBC, its sub-contractors, subsidiaries and/or agencies cannot accept any responsibility whatsoever for any technical failure or malfunction or any other problem which may result in any entry being lost or not properly registered.
13. This competition accords with the BBC's Code of Conduct for Competitions and Voting, details of which can be found at BBC Competitions Policy.
14. The promoter of the competition is the British Broadcasting Corporation and the applicable law is the laws of England and Wales.
15. Entrants will be deemed to have accepted these rules and to agree to be bound by them when registering.