Royal Marines storm Cornish beach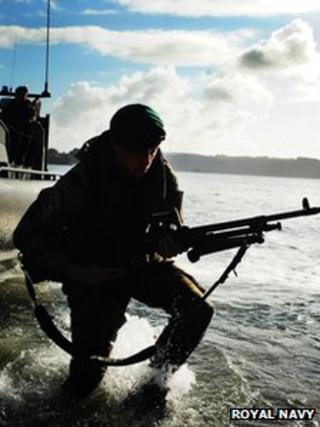 Royal Marines have stormed a beach and scaled a cliff face in Cornwall.
The commandos were taking part in operation Cougar 12 - one of the Royal Navy's largest amphibious exercises.
After the beach "assault" at Barnpool, military equipment was landed to show how UK personnel could operate in real-world events.
The amphibious task force, which includes ships, naval air squadrons and marines, will deploy to the Mediterranean later this month.
A Royal Navy spokesman said it was one of the most ambitious manoeuvres off the South West coast.
The commandos involved in the early morning beach storming were from 45 Commando, based at Arbroath in Scotland.
More than 3,000 sailors and marines are involved in Cougar 12 and once in the Mediterranean they will be among a total of 15 nations taking part in the exercise, including Canada, France, the US, Sweden and the Netherlands.