Eight Shelter offices across England could close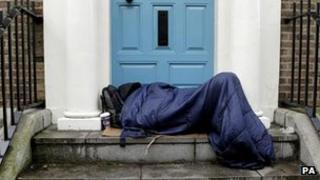 Eight offices run by homeless charity Shelter could shut due to government cuts in legal aid funding, it said.
The affected offices are Ashford, Cheshire, Cumbria, Gloucester, Hertfordshire, Milton Keynes, Rotherham and Somerset.
Shelter said the cuts would mean a 50% reduction to its face-to-face advice services and possible office closures.
The Ministry of Justice (MoJ) said legal aid was not always necessary and practical help could be more useful.
Each Shelter office offers independent advice on housing, debt and benefits and often serves a whole county.
The government cuts will mean fewer housing and social welfare cases will be eligible for legal aid funding, which pays for a large part of Shelter's work.
A spokesman for the MoJ said it would still continue to pay for community care and high priority debt and housing cases with a £50m fund.
Housing safety net
It said £60m was being invested into advice charities over the next three years and it had allocated an extra £3.5m to the Citizens Advice Bureau charity.
Shelter is now holding an internal consultation over the future of the eight offices.
The consultation is due to end on 7 Ocotober and the final decision is set to be made on 16 October.
Documents obtained by the BBC stated there was a "distinct possibility" the office in Taunton would close by March 2013.
Shelter has confirmed that closure is one option but did not disclose what the other possibilities were.
Campbell Robb, chief executive of Shelter, said: "With the ongoing recession, benefit cuts, and the high cost of housing meaning more and more people struggling to keep a roof over their heads, now is the very worst time to be taking away the housing safety net that helps people stay in their homes."
The charity also added that it would still be able to offer advice through its website and helpline.