Justin Lee Collins: 'Ex-girlfriend urged me to dump her'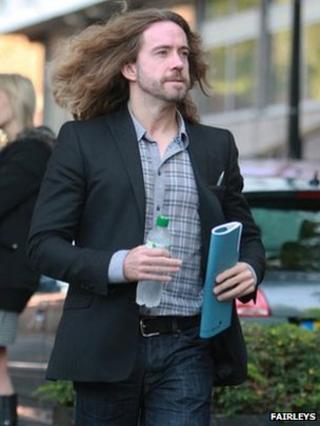 TV presenter Justin Lee Collins' ex-girlfriend repeatedly told him to "dump" her, his trial at St Albans Crown Court heard.
Mr Collins, 38, said Anna Larke, whom he denies harassing, frequently phoned him with the "mantra", telling him to end their relationship.
Mr Collins, of Kew, London, kept a notebook detailing Ms Larke's previous sexual encounters, the jury has heard.
But the TV presenter said making the list had been Ms Larke's idea.
Mr Collins began a relationship with Ms Larke at the end of 2010.
The star, who found fame on Channel Four's The Friday Night Project and has been appearing in Rock of Ages in the West End, said he had agreed to spend Christmas 2010 with his wife Karen and their two children, but was going to leave the next month.
'Dump me'
But one night, after his wife and the children had gone to bed at their home in Bristol, he received a call from Ms Larke.
"She said, 'You need to dump me'. She was highly emotional and highly-strung," he said.
"She was telling me, 'There are things you don't know. There are things you need to know'. It was a constant refrain.
"I said, 'I am not going to dump you. Tell me what is troubling you'."
He said Ms Larke, 38, had told him she had had a relationship with another man in the public eye.
"She started screaming the name Charlie down the phone," he said.
"He was a figure in the public domain. I said, 'It doesn't matter he is in the public eye'."
The prosecution claims Mr Collins made Ms Larke, a recovering alcoholic, reveal explicit details of her previous sexual partners which he wrote down in a notebook.
He said he did not want to write the details down but Ms Larke, a public relations worker, believed it would be cathartic and therapeutic and help her "unburden herself".
Asked by his barrister Sonia Woodley QC: "Did it ever occur to you to ask her about boyfriends?" Mr Collins answered: "No."
"Were you interested?" she asked.
"No," he replied.
Mr Collins said Ms Larke had bought the notebook because she had wanted to "unburden herself".
'I loved her'
He said: "It was Anna's book. Anna was dictating. I was writing.
"She told me she wanted to write everything from her past in the pad. She couldn't bring herself to write it down herself."
Mr Collins said she had told him of her problems with alcohol and of three attempts to take her own life.
"I loved her. I cared for her greatly. I had great sympathy for her and I wanted to help," he said.
Mr Collins denied he had forced Ms Larke to have tests for sexually transmitted infections.
He also denied forcing her to close her Facebook and Twitter accounts and delete her emails, once he had read them.
He pleads not guilty to harassment causing her fear of violence between 1 January and 1 August last year.
Mr Collins had earlier told the jury he had slapped Ms Larke once when she was self-harming, but denied violence towards her during their nine-month relationship.
The trial continues.