Mallard 'sister locomotives' arrive at Liverpool docks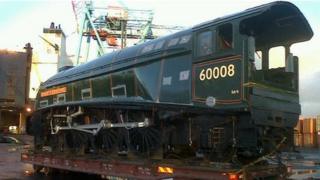 The "transatlantic sisters" of the classic Mallard locomotive have arrived in Liverpool en route to the National Railway Museum (NRM) in County Durham.
The A4 locomotives were unloaded at Seaforth docks after completing a sea journey from Nova Scotia in Canada.
The trains will be part of the NRM's 2013 celebrations of the anniversary of Mallard breaking the land speed record.
Peel Ports Mersey's Gary Hodgson said it was a "privilege to welcome these extraordinary machines to the UK".
The Dominion of Canada and Dwight D Eisenhower locomotives were built in Doncaster in 1937 and were shipped to North America in the 1960s.
Mallard broke the world land speed record in 1938, travelling at 126mph (203km/h) on what is now the East Coast Main Line.
'Engineering excellence'
Director of the National Railway Museum, Steve Davies, said the 94-tonne trains had been brought back to England for a "family reunion".
"We wanted to do something really special to mark the 75th anniversary of Mallard breaking the world speed record and what could be more spectacular than an international family reunion?" he said.
He added the operation to bring the "transatlantic sisters" to England had been "immense".
"When these mighty machines were exported across the Atlantic, no-one thought they would ever come back - now they are finally here.
"The sheer scale of this transcontinental project to move these locomotives back to home soil was immense and it is testament to the vision and expertise of all those involved."
Mr Hodgson said he was glad the docks had been involved as "railways and ports have traditionally had a very close relationship".
"It is a real privilege for the Port of Liverpool to be able to welcome these extraordinary machines back to the UK.
"They are a wonderful reminder of our country's great capacity for engineering excellence and a heritage we should all be proud of."
The two trains will be transported from Liverpool to the NRM's Shildon site by road on low loader trailers.
The museum is bringing together all six surviving A4 locomotives for the celebrations, which will take place at the main NRM site in York.